Submitted by

MKeegan

on Wed, 03/18/2020 - 11:22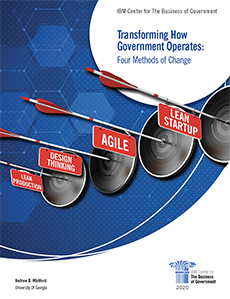 Wednesday, March 18, 2020
On behalf of the IBM Center for The Business of Government, we are pleased to present, Transforming How Government Operates: Four Methods of Change, by Andrew Whitford, School of Public and International Affairs, University of Georgia.
As underscored by the public health crisis we are facing today, this world is fraught with uncertainty, and even the best-laid plans can go awry. The increasing complexity and interconnectedness of today's world only ups the ante on the unknown and unexpected. It is within this ever-changing environment, with lives and treasure at stake that government executives must operate, anticipate, and respond. It is also where they find ways to innovate—to improve operations by adopting tools and methods from other sectors.
Professor Andrew Whitford, School of Public and International Affairs, University of Georgia, author of the new IBM Center report Transforming How Government Operates: Four Methods of Change, highlights how government agencies can use innovative methods and tools to transform operations in a way that meets their missions and better serves their stakeholders. This report continues the IBM Center's focus on the way government agencies can leverage methods and tools that have been effectively used in the private sector, such as Agile, Lean Methodologies, and Design Thinking.
Many of the problems of government can be solved by technology, but the real roadblock is knowing how to fix the problems citizens experience when they interact with government. More than anything, government workers who want to make government operations and services innovative need new methods and tools that can help them make better decisions and deliver more effective results.
Such frameworks provide practical pathways to help agencies transform their operations in a way that makes more effective use of resources. Transformation involves changing how people do their work, how processes are built to support faster and more effective service delivery, and how technologies are brought forward in new ways that leverage commercial best practices—all focused on improving mission results for businesses and citizens. While government leaders understand the need to transform in response to 21st century demands, less is understood about actions they can take to address this imperative. Professor Whitford describes Agile, Lean Methods, and Design Thinking as frameworks that can help government executives and public manager change the way government does business.
Case Studies: Agile, Lean, Design Thinking In Action
The brief case studies presented in this report illustrate how specific agencies and organizations have employed these tools and methods to transform how they operate and better serve their citizens. To learn more, please download this report and review these brief studies to see these tools and methods in action.
Spreading Knowledge with College Scorecard
Design Thinking at the Office of Personnel Management's Innovation Lab
Improving Accessibility at Georgia.gov
Building Labs at the Centers for Disease Control and Prevention
Challenges and Considerations
Whitford also identifies some challenges to using these methods and tools as well as certain issues government executives should consider when using innovative ways to enhance how government works.
Incorporate Change Agents from Outside the Organization
Implementation Depends on Outside Actors
Many Projects Require Long Periods of Time
Dissensus
In the long run, the provision of public services can benefit greatly if it takes on some of the behaviors we see in methodologies like Agile, Lean Production, Design Thinking, and the Lean Startup.  The long-run benefits will come from organizations that can overcome significant challenges—from a lack of coordination, from the need for change agents, from varying time horizons, or from dissensus about the problem and its solution.
Many government agencies will benefit if they only consider why so many firms think these methods are worth their time. In the long run, Agile may just become a metaphor for speed—for fast iteration between design and implementation. Lean may become a metaphor for doing the most with the least resources, for trying to match what we are doing to what is needed in the thinnest way possible. Design Thinking may become a metaphor for centering what is being done on those who need it most. Even as metaphors, these tools may improve the provision of public services.
This report joins a library of IBM Center reports that focus on how to improve government operations. This becomes even more relevant given the emphasis on improving how government operates found in such documents as the President's Management Agenda, passage of the Idea Act, and OMB Circular A-11. Prior studies on this topic include Agile Problem Solving in Government: A Case Study of The Opportunity Project, by Joel Gurin and Katarina Rebello, which explores how agile problem solving can enable public-private collaboration that helps address some of their most significant mission-focused issues facing government agencies today; A Guide to Critical Success Factors in Agile Delivery by Philipe Krutchen and Paul Gorans, which was an early assessment of the promise of agile for the public sector; Digital Service Teams: Challenges and Recommendations for Government by Ines Mergel, which provides insights into digital services activities that leverage agile techniques for governments in the U.S. and around the world; and Applying Design Thinking To Public Service Delivery by Jeanne Liedtka and Randy Salzman, which focuses on the expanding use of design thinking in government to transform how agencies engage citizens, enhance operations, and innovate across a broad spectrum of public management challenges.
We hope that the insights offered in this report will help government executives more effectively address their most significant management challenges while also transforming how their government agencies operate— becoming agile and effective enterprises that better serve citizens.