Submitted by

cmasingo

on Fri, 12/22/2017 - 12:34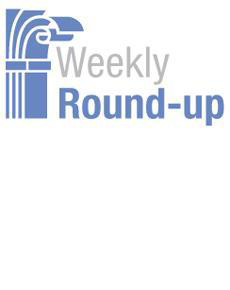 Friday, November 11, 2016
The IBM Center's Weekly Roundup highlights articles and insights that we found interesting over the last two weeks...
Transition Underway.  According to Government Executive: "An org chart floated around the capital showed that the Trump team has set up six prongs for agency action, as Politico reported. Work on these areas will be led by Boston Consulting Group adviser Ron Nicol. The groupings of possible new appointees include categories of Defense, National Security, Economic Issues, Domestic Issues, Management/Budget, and Agency Transformation and Innovation."
New Transition Websites:
 The Trump Transition Website, greatagain.gov, is up and running.
 The Government Accountability Office's Webpage and new mobile app for its transition advice is also out.
More DATA Act Guidance Out.  Federal News Radio reports: "In a Nov. 6 memo to agencies, OMB delves into detail for reporting certain types of federal financial assistance and awards under the Digital Accountability and Transparency Act.
New OMB Website Guidance Out.  On Election Day, OMB released detailed guidance to agencies on federal websites, addressing governance, analytics, info searchability, etc.  Compliance is expected within 180 days of the release of the memo.  Agency progress will be tracked on GSA's DotGov Dashboard.
Next Steps in18F.  NextGov reports that GSA administrator Denise Turner Roth has hired Rob Cook as the new head of the internal IT consultancy, 18F, and "We need to ensure cost recovery, and we are working to do that . . . . Us having a break-even position and getting cost recovery is absolutely the prime expectation."
DOD Innovation Officer Position Created.  FedScoop reports that Defense Secretary Ash Carter has created a new position of chief innovation officer who will be a senior adviser to the secretary and will "serve as a spearhead for innovation activities," according to Carter.  Federal News Radio notes: "Its creation was first suggested by members of the Defense Innovation Board he created earlier this year, preceded by his standup of the Defense Innovation Unit-Experimental (DIUx)."
Making "Hiring Excellence Campaign" Stick.  Federal News Radio reports: "A little less than a year after the Office of Personnel Management began a new campaign to improve the federal hiring process, the Obama administration wants to put agencies on a path that institutionalizes those lessons so they live on past Jan. 21. . . . New guidancefrom the Office of Management and Budget and OPM officially details three objectives that will help agencies better recruit and hire new talent and seven practices that will help them achieve success, as well as a timeline to help them get there."
Open Data: Progress, Pitfalls.  NextGov reports: "Ninety percent of open data experts interviewed in a new report believe the standardization and publication of government data have improved over the last few years of the Obama administration."  But according to one expert interviewed for the report: "Currently, open data practices are appallingly crude."
Digital Tools for Presidential Transition. According to Government Executive: "Touting President Obama's status as "the first social media president," the White House late on Monday announced principles with which it plans to conduct the first digital presidential transition."
New Ethics Rules in Time for New Administration.  Government Executive reports:"The Office of Government Ethics issued a final rule titled Executive Branch Ethics Program Amendments to update rules that have gone largely unchanged since 1981, when the agency implemented guidance to enforce the 1978 Ethics in Government Act. The update "clearly defines" OGE's core principles and goals, spells out the role of agency heads, officials and employees, and establishes new requirements for agencies, OGE Director Walter Shaub said Thursday. The changes will go into effect Jan. 1, 2017."
IT, management advice for the new administration. The clock is ticking on the transition, and President-elect Donald Trump's team is moving fast to fill positions across government, from high-visibility Cabinet posts to backroom policy jobs deep in agencies and components. Over the course of the election season, FCW's resident blogger Steve Kelman and a roster of contributors have offered advice on how the next president should handle issues ranging from management to cybersecurity to IT governance. And FCW's reporting team has gathered advice from thought leaders in and out of government. Here's what people are saying.
A reorg every agency should know about. The General Services Administration's Federal Acquisition Service (FAS) is transforming to serve its customers based on how it's implementing category management.
What Dorothy's ruby slippers say about government management.  Steve Kelman argues that the Smithsonian's proposed $300,000 restoration of the shoes Judy Garland wore in "The Wizard of Oz" reflects the same mentality that produces over-engineered government IT projects.
OMB updates 12-year-old federal website policy. The Office of Management and Budget replaced a 12-year-old policy for federal agencies' public-facing websites with a new set of requirements it says will make those digital assets more accessible, secure and functional.
New DoD research policy gets glowers from industry. DoD is tightening the reins on the research money it gives out to companies. The Pentagon is receiving some backlash for it.
Marines get a cake on their birthday.Welcome to the #FedFeed, a daily collection of federal ephemera gathered from social media and presented for you enjoym
* * * * *
The Business of Government Radio Show:  Dr. David Shulkin, Under Secretary for Health, Veterans Health Administration, US Dept of Veterans Affairs.  What are Veterans Health Administration's strategic priorities? What is VHA doing to improve its organizational performance? What is VHA doing to advance healthcare innovation for veterans and the country? Join host Michael Keegan as he explores these questions and more with Dr. David Shulkin, Under Secretary for Health, Veterans Health Administration, US Dept of Veterans Affairs. Here's a sneak peek! Broadcast Schedule: The show airs Monday at 11 a.m., and Friday at 1 p.m. on Federal News Radio 1500AM WFED