Submitted by

cmasingo

on Fri, 12/22/2017 - 12:22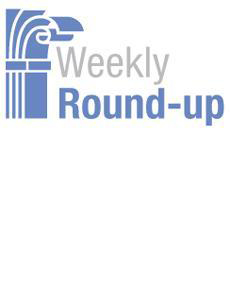 Friday, November 18, 2016
The IBM Center's Weekly Roundup highlights articles and insights that we found interesting for the week ending November 18, 2016.
Trump teams begin meeting with federal agencies. President-elect Donald Trump has begun to deploy transition teams in three waves to meet with federal agencies.
CIOs uncertain about the Trump administration. Several agency-level CIOs told a Capitol Hill panel that, while they are proud of their progress to date, there are real uncertainties about their future and the future of key IT initiatives as President-elect Donald Trump prepares to assume the presidency.
President-Elect Donald J. Trump Selects U.S. Senator Jeff Sessions for Attorney General, Lt. Gen. Michael Flynn as Assistant to the President for National Security Affairs and U.S. Rep. Mike Pompeo as Director of the Central Intelligence Agency . President-elect Donald J. Trump today announced several members of his White House team well ahead of recent pace.
Donald Trump's management agenda? Steve Kelman looks for clues (and raises concerns) about how the next administration might run.
Cloud adoption slowed by culture, even with FedRAMP. The federal government maintains a "cloud first" policy, but is that statement backed up by what an agency can do as a practical matter? "You can't say 'cloud first' with no way to procure it," Tony Summerlin, special advisor to the CIO of the Federal Communications Commission.
Why cyber needs to be front and center in the transition. Experts warn that past transitions have ignored the lessons learned by outgoing administrations, and the stakes are so high now that the Trump Administration needs to heed the advice of Obama's cyber officials. The incoming Trump administration can't afford to ignore the lessons learned during the Obama administration, according to a group of experts convened to discuss the transition. Historically, new administrations have been warned of the importance of cybersecurity policy and yet have tended to ignore the problem until confronted with a crisis.
Short-term CR would short-change Pentagon operating fund, DoD comptroller says. Defense Department Comptroller Mike McCord said the prospect of a continuing resolution into the ne year is one of the biggest challenges DoD will face. House Republicans seem poised to act on a continuing resolution that would keep the government funded through current spending levels until March.
IGs offer insight, advice to procurement industry ahead of new administration. Speaking on a panel during a Nov. 17 Coalition for Government Procurement event in Tysons Corner, Virginia, acting Defense Department Inspector General Glenn Fine said he didn't see the presidential transition "as dramatically different" than any other time of the federal year. "To be honest, we're always busy," Fine said. "I'm sure we'll get additional requests, but we get them at all times. Somebody asked me the other day, is it gonna change now with one party controlling the presidency and Congress. I don't believe so. I believe that we are non-partisan, we're independent, and we're going to be doing what we're doing in the same way we're doing it, regardless of the political changes. And in fact, that's what I tell our folks in the IG community, that it is important for us not to be aligned with one side or the other, not to try to even maneuver in that way."
* * * * *
The Business of Government Radio Show:Conversations with Authors  Doug Brook and Maureen Hartney on Managing the Government's Executive Talent. The management of the federal workforce—including executives—will be a critical factor in the next president's success. How do we strengthening federal senior leadership, including political appointees and career executives, and enhancing their collaboration? Join host Michael Keegan as he explores this subject with Doug Brook and Maureen Hartney authors of Managing the Government's Executive Talent. Here's a sneak peek!
Broadcast Schedule: The show airs Monday at 11 a.m., and Friday at 1 p.m. on Federal News Radio 1500AM WFED