Submitted by

MKeegan

on Fri, 04/29/2022 - 14:10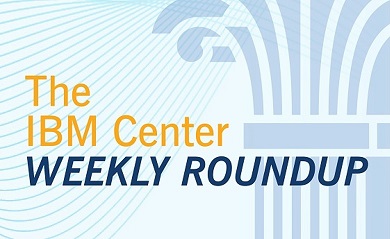 Highlighting articles and insights that we have found interesting for the week ending April 29, 2022
Expanding the Nation's Cybersecurity Workforce: A National Imperative. Want to see highlights of our recent panel event with @CyberSecurityFL, "Expanding the Nation's #Cybersecurity Workforce: A National Imperative," which featured remarks from National Cyber Director @NCDInglis @ONCDpress Check out this new short video!
Thanks @SharedSrvcsNow @ACTIAC for hosting an excellent Summit with discussions around #sharedservices for #government -- glad to be part of a panel discussion on financing models to move the ball forward that featured @BusOfGovernment/SSLC report https://businessofgovernment.org/report/mobiliz
DISA Chief Offers 'Cool' Wish List of Asks For Industry. The Defense Information Systems Agency (DISA) Lt. Gen. Robert Skinner pointed private sector IT firms to numerous areas on his technology wish list during his opening keynote address on April 26 at AFCEA International's TechNet Cyber event in Baltimore and asked the industry to help DISA work through those problems. "Every great innovation started when somebody said, 'wouldn't it be cool if…'" Skinner said in recounting the private sector's help over the years in providing the Federal government with better technologies at scale.
Lawmakers Implore VA to Pause EHRM Rollout Until Issues are Addressed. As the Department of Veterans Affairs (VA) continues to see problems arise with its Electronic Health Records Modernization (EHRM) program, members of the House Committee on Veterans' Affairs implored VA to pause any further deployments of the EHRM system until issues are addressed at the existing deployment sites. At a Subcommittee on Technology Modernization hearing on April 26, lawmakers agreed that the agency must address the existing concerns with the EHRM system – and the Cerner Millennium system it runs on – such as pharmacy and prescription errors, unannounced shutdowns, and a growing backlog of tickets, among others.
Information Sharing a Key Component to Securing Software Supply Chain. Historically, Federal agencies have been instructed to be secretive on cyber matters, but a key step in fortifying the software supply chain is clear and constant information sharing, according to Jeanette McMillian, the assistant director for Supply Chain and Cyber at the National Counterintelligence and Security Center. McMillan emphasized that constant information sharing is important not just amongst Federal agencies but for industry as well. "Over the past year, we've already seen substantial cyberattacks against critical infrastructure and supply chains," McMillian said during her keynote address at an Intelligence & National Security Alliance event on April 26.
OMB names chief statistician to lead data goals. The Office of Management and Budget is naming Karin Orvis as its chief statistician and branch chief for statistical and science policy at OMB's Office of Information and Regulatory Affairs. OMB hasn't had a permanent official to lead these efforts in more than two years. Orvis, prior to joining OMB, served as the director of the Defense Suicide Prevention Office, which leads suicide prevention programs across the Defense Department.
Federal Employees Are Growing Less Engaged and Less Satisfied with Their Jobs. Federal employees reported decreases in both their engagement and job satisfaction when they responded to the government's annual survey of workplace attitudes, although officials warned that the COVID-19 pandemic continues to color those results. Response rates for the annual Federal Employee Viewpoint Survey also fell 10 points from 2020, amid an abbreviated fall survey period due to the COVID-19 pandemic.
Transforming the Paperwork Reduction Act to tackle administrative burden. The PRA is not a terribly well-known, or well-loved piece of legislation. The original intent of the PRA was to "minimize the Federal paperwork burden for individuals, small businesses, State and local governments." Thus, the new guidance could be seen as better fulfilling those original goals of the PRA.
GSA Is Launching a New Tool to Simplify the Federal Buying Process. Federal Acquisition Service Commissioner Sonny Hashmi said the new buyer experience tool "was built using human-centered design to address pain points in the acquisition process." He announced the launch of  buy.gsa.gov on Tuesday afternoon and said in a blog post that the buyer experience tool "was built using human-centered design to address pain points in the acquisition process." 
Coronavirus Roundup: A Watchdog Highlights Concerns of Payment Integrity in COVID Funds. Payment integrity continues to be a pressing issue with pandemic relief funds, the Government Accountability Office said in its 10th comprehensive report on the federal government's coronavirus response released. The watchdog reiterated its previous recommendations "that Congress consider amending the Payment Integrity Information Act of 2019 to designate all new executive agency programs—such as those created specifically to respond to the COVID-19 pandemic—making more than $100 million annually in payments as 'susceptible to significant improper payments' for their initial years of operation." GAO also recommended that the Office of Management and Budget "require agencies to certify the reliability of submitted improper payment data;" OMB neither agreed nor disagreed.
DoD to Improve Technician Workforce Data After GAO Flag. The Department of Defense (DoD) will look for ways to improve how it tracks workforce data for technicians so that it can more accurately assess how much funding it needs to hire technicians for future missions. In a new report, the Government Accountability Office (GAO) said it interviewed Pentagon officials about technician hiring, and learned that DoD's ability to hire nonpermanent technicians helps the agency to quickly fill critical jobs and carry out missions.
Effective leaders embrace deliberate curiosity. Leaders should be more intentional in their curiosity to fuel better results, growth and success, writes Diana Kander. Encouraging deliberate curiosity means identifying and remedying your unwitting gaps in perception, getting rid of initiatives that are not creating value and fostering accountability among team members. Chief Executive
Here are basic strategic planning flaws. Strategic planning can go awry if managers get stuck in one way of thinking, rely only on one familiar model or if budget guides strategy, writes Graham Kenny, CEO of KMS Education and Strategic Factors. Kenny offers three examples of how CEOs overcame these barriers to come up with workable and flexible strategic plans. Harvard Business Review (tiered subscription model)
Your mindset is a powerful driver of how you'll feel. Your expectations can affect how you experience events or even how you feel, writes science writer David Robson. "We can't simply ignore the feelings we get from unpleasant experiences, but we can reframe our interpretations of the sensations to create powerful expectation effects," Robson writes. Next Big Idea Club Magazine
Reframe negotiations as deal-making instead of winning. Framing negotiations as simply a "deal" instead of "as win-win or win-lose" can ease aggression and return the focus to creating a sense of satisfaction on both sides, writes INSEAD professor Horacio Falcao. "If, in our negotiation, we can help the counterparty get something, marginally or significantly, better than a no-deal scenario, they are likely to accept the deal, and that should be considered a win for both sides or just a deal," Falcao writes. INSEAD Knowledge
Next Week on The Business of Government Hour: A Conversation with Jane Datta, Chief Human Capital Officer (CHCO).  Next week on The Business of Government Hour. What is the human capital strategy for NASA? How did NASA respond to the pandemic and keep its workforce performing? Join host Michael Keegan as he explores these questions and more with Jane Datta, Chief Human Capital Officer, at the National Aeronautics and Space Administration (NASA) on next week's The Business of Government Hour.
Broadcast Schedule: The show airs Monday at 11 a.m., and Friday at 1 p.m. on Federal News Network 1500AM WFED