Submitted by

MKeegan

on Fri, 12/09/2022 - 14:37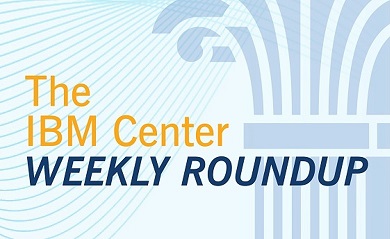 Articles & insights in public management & leadership that we have found of interest for the week ending December 9, 2022.
Senate passed bill to 'stop the government speak' in agency documents. The Senate unanimously passed a bipartisan bill to override an existing law and update requirements for government agencies to write communications in easy-to-understand language. Specifically, the Clear and Concise Content Act, backed by Homeland Security and Governmental Affairs Committee chair Gary Peters (D-Mich.) and Sen. James Lankford (R-Okla.), zeroes in on the use of plain writing in government content about benefits and services or filing taxes, provided on paper or digitally. 
 For federal CX to work, Congress, the White House and agencies need 'fundamental' change, report says. Although stopgap solutions and incremental changes can improve how people experience government, a new report contends that achieving the full vision of the customer experience efforts being pushed by the Biden administration would require wholesale changes to government. This report outlines the systemic barriers to customer experience, and the collaboration between Congress and the executive branch needed to address them.
DHS to issue identity tech "challenge" for industry. The Department of Homeland Security's Science and Technology Directorate will be holding a series of "challenges" next year to test the performance of remote identity validation technology used to verify identities online and weed out fraudster. The testing effort for identity validation tools, led by the Department of Homeland Security with other agencies, is meant to push for the development of better tech and to set a performance baseline for its operation.
 House-Senate agreement paves way for final action on annual defense policy bill carrying cyber provisions. Package includes bill to codify/reform GSA's FedRAMP program and a Homeland Security "minibus" w/ provisions on intergovernmental cyber information sharing, a requirement for a report on cyber roles and responsibilities, and other pieces. #NDAA #FedRAMP. See also Key Cyber and Tech Provisions Included—and Excluded—from the Final NDAA
 VA tapped COVID funds to bolster IT and digital services. The VA used supplemental COVID funding from three different bills to support expanded telehealth services and remote operations during the worst of the pandemic. 
Expect AR/VR on the battlefield, Air Force CIO says. Expect tomorrow's airmen and guardians to use augmented- and virtual-reality tools to fight real battles, an Air Force leader said. "We're doing some cool stuff across the Air Force with AR/VR, with our maintainers and with our pilots. And AR/VR, in some cases, it's gotten so good that you really can feel like you were there and experiencing something," says Air Force CIO Lauren Knausenberger. "I think that there will be increasing use cases where we are using AR and VR and where we are moving something throughout a battle space, for instance."
 GAO Building DLT for Grant Tracking. Tim Persons, founder of the Government Accountability Office's (GAO) Innovation Lab, said the government watchdog agency is currently working on building distributed ledger technology (DLT) to more efficiently deliver on the agency's mission.  DLT-based tech – of which blockchain is an example – is a secure way of conducting and recording transfers of digital assets without the need for a central authority, according to GAO. The agency is leveraging the new technology and asking, "What can you do with blockchain across all of the ecosystems, when you think about the Federal government, to deliver services," the GAO official said.
DOL Making Strides in AI, but Challenges Remain. The Department of Labor's (DOL) Directorate of Technology, Innovation, and Engineering has made great strides to develop some important aspects of artificial intelligence (AI) through the creation of a new branch that looks at emerging technologies, according to a DOL official. Sanjay Koyani, chief technology officer (CTO) at the DOL, explained that some of the items the new branch has been working on for the past year and a half include how AI can best be utilized to help reach the department's mission goals.
Are best-in-class contracts on the downswing? The question was one of the main focuses among acquisition experts at the Professional Services Council federal market forecast conference. PSC's team of acquisition professionals found that agency-specific duplicative blanket purchase agreements and indefinite delivery, indefinite quantity contracts were once again proliferating as the administration focused its efforts on boosting government contracts among small businesses – which typically get shut out of best-in-class vehicles.  
 20th Anniversary of the E-Government Act - SSLC Dave McClure Interview. in the 20th Anniversary E-Government Act series, @johmarsh interviews @drdavemcc. Check out this interview and more on the SSLC channel.
New leadership at the Senior Executives Association. In a workforce of about two million, the federal government has only about 8,000 members in the senior executive service. A small number, but crucial, they are the main buffers and translators between the political appointees and the rank-and-file who actually do the work of government. Now the Senior Executives Association has a new board chairman. He retired last year as senior executive advisor to the Federal Law Enforcement Training Centers. The Federal Drive with Tom Temin has a chance to talk with Marcus Hill.
Year-end review? Here's how to get the most from it. Approach a pending annual review as an opportunity to document your successes, take responsibility for shortcomings and apply what you've learned from the past year to make the next one better, writes Julie Winkle Giulioni. "Translating events and activities into learning demonstrates a thoughtful, reflective approach to work," Giulioni writes. SmartBrief/Leadership
 5 steps to improve your decision-making process. Use stories about how problems are affecting people to define what needs to be solved, set parameters around the dilemma, determine what you do know and have a plan for the unexpected when it comes time to implement the proposed solution, writes Wally Bock. "You should make an effort to determine as many nasty surprise possibilities as you can," Bock writes. Three Star Leadership
How to tap your "inner core" to become a better leader. Everyone has an "inner core," a sense of their authentic self that they can tap into for guidance and to bring out the best in others, says Hitendra Wadhwa, a professor at Columbia Business School. "Whatever the common positive purpose is, how can you bring out the best in others and the best in yourself, which means activating them at their core and activating yourself at your core?" Wadhwa asks. McKinsey
 Are you stalled, stuck or stale in your leadership? Leaders can judge where they are at any given moment by asking this question: "Am I on my heels, standing still or leaning forward?" writes Steve McKee. Paradoxically, you may be in one or all three states at the same time in different areas of leadership, but McKee writes that it's important to find even the smallest way to move forward because "nobody will follow a leader who's standing still." SmartBrief/Leadership
How the best leaders use crises to become resilient. The best leaders are those who can see difficulties such as layoffs or illness as opportunities "to look deeper into themselves and build resilience and emotional intelligence," says Bill George, former chair and CEO of the medical device company Medtronic. His advice to Generation Z leaders is "not to get stuck in the reel world and be more part of the real world," by going back to the office to connect with colleagues and senior leaders. Forbes (tiered subscription model)