Submitted by

MKeegan

on Fri, 01/21/2022 - 13:21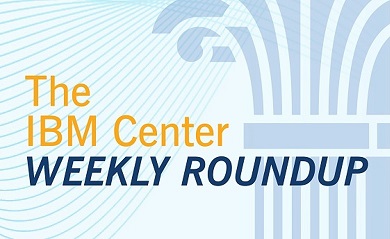 Highlighting articles and insights that we have found interesting for the week ending January 21, 2022
Improving the Cybersecurity of National Security, Department of Defense, and Intelligence Community Systems. This memorandum sets forth requirements for National Security Systems (NSS) that are equivalent to or exceed the cybersecurity requirements for Federal Information Systems set forth within Executive Order 14028 of May 12, 2021 (Improving the Nation's Cybersecurity), and establishes methods to secure exceptions for circumstances necessitated by unique mission needs.
CISA Official: Latest Cyber Order to Make Agencies Better Cyber Defenders. The latest cyber order released by the Cybersecurity and Infrastructure Security Agency (CISA) gives Federal agencies and industry the resources to stop or limit cybercriminals from infiltrating their systems; Michael Duffy, an associate director at CISA, said. During FNN's Ask the CIO Virtual Series on Jan. 20, Duffy stressed that the Binding Operational Directive (BOD) 22-01, released in early November, spans further than just fixing known vulnerabilities in networks and systems. "It's a way for agencies to become better cyber defenders," he said.
Can Federalism Save American Democracy? Maybe. State and local governments are still trusted more than Washington, though they're having their own brushes with incivility and polarization. But they're still the best bet for preserving our traditions of governance.
House of Representatives Launching Digital Service Team. The Office of the Chief Administrator in the House of Representatives is launching a House Digital Service team comprised of technology experts that will help improve members' access to innovative technology tools, according to Chief Administrative Officer Catherine Szpindor. In a statement for the House Select Committee on the Modernization of Congress, Szpindor said the new House Digital Service team is a result of several recommendations from the Select Committee related to improving technology use for lawmakers.
Lawmakers Eye FITARA Scorecard Changes on Cyber, CX, Modernization. Key lawmakers in the House voiced general agreement today that they want to explore making big changes to the semiannual FITARA Scorecard that rates major Federal agencies on progress toward IT-related goals. Debate at a House Government Operations Subcommittee hearing today centered on the need for scoring categories that shed more light on agency cybersecurity, continuing IT modernization, and progress against the goal of improving citizen services, among others.
Deputy Federal CIO Maria Roat Retiring in March. Deputy Federal CIO Maria Roat will retire from government service on March 31, capping off a Federal career that began with U.S. Navy service in 1981 and has since led ever-upward through the ranks of Federal IT leadership.
Federal CTOs Discuss 2022 Digital Transformation Plans. In this new year, agencies continue to embark on digital transformation journeys, modernizing IT applications and infrastructure. Federal technology leaders discussed their agency's 2022 digital transformation plans and goals at ATARC's Digital Transformation Summit on Jan. 18.
ONC Announces Completion of Electronic Health Info Sharing Framework.The Office of the National Coordinator for Health IT (ONC) completed a framework to allow electronic health information to be more easily shared among providers and individuals called the Trusted Exchange Framework and Common Agreement (TEFCA).
Federal Leaders on Their Approach to Zero Trust. Large numbers of private and public sector organizations have shifted to a zero trust architecture. Each organization takes a different approach to implement zero trust concepts. Still, the goal is to bring together emerging and existing technologies to ensure users and their staff experience is secure and effortless, Federal leaders said Jan. 18 during a Federal News Network virtual event. Dorothy Aronson, the chief information officer at the National Science Foundation (NSF), said at NSF, zero trust underpins several other efforts around improving the customer experience, modernizing the infrastructure, and converging disparate and older systems.
OPM Set to Release New Guidance on Performance Management in a Hybrid Workplace. The Office of Personnel Management (OPM) is set to release new guidance for agencies this week with tips and best practices around performance management in a hybrid workplace, according to OPM Director Kiran Ahuja.
Invest in Staff to Advance Digital Transformation, Experts Say. To rapidly innovate in their digital transformation journeys, Federal experts recommend agencies invest in their staff and provide them with a "safe space" to experiment and explore different technologies. During today's ATARC Digital Transformation event, Gulam Shakir, the acting chief technology officer and director of enterprise data management at the National Archives and Records Administration (NARA), explained that investing in staff is key to a successful digital transformation journey.
* * * *
Next Week on The Business of Government Hour: A Conversation with Jane Datta, Chief Human Capital Officer (CHCO).  Next week on The Business of Government Hour. What is the human capital strategy for NASA? How did NASA respond to the pandemic and keep its workforce performing? Join host Michael Keegan as he explores these questions and more with Jane Datta, Chief Human Capital Officer, at the National Aeronautics and Space Administration (NASA) on next week's The Business of Government Hour.
Broadcast Schedule: The show airs Monday at 11 a.m., and Friday at 1 p.m. on Federal News Network 1500AM WFED