Submitted by

MKeegan

on Fri, 01/27/2023 - 11:34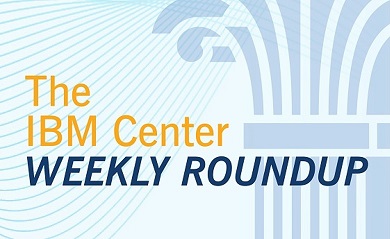 Articles & insights in public management & leadership that we have found of interest for the week ending January 27.
NIST Risk Management Framework Aims to Improve Trustworthiness of Artificial Intelligence. New guidance seeks to cultivate trust in AI technologies and promote AI innovation while mitigating risk. AI innovations are arriving at mind-boggling speed. Is your organization ready? Today, NIST released an AI Risk Management Framework that can help maximize AI technologies' benefits and reduce the risk of negative impacts. See our voluntary guidance. 
January 2023 Agency Priority Goal Updates. The Office of Management and Budget (OMB) has published the latest quarterly Agency Priority Goal (APG) updates on Performance.gov. APGs are an agency's near-term, implementation-focused priorities that are established every two years and report on a quarterly cadence. As the FY 2023 APGs reach the halfway point, agencies reported not only on accomplishments made in the past quarter, but also on the goal's overall performance over the past year.
How federal agencies embrace flexibility and bring visibility to the cloud. One commonly touted benefit of moving operations to the cloud is savings. This IBM Center blog offers some best practices to maintain financial accountability while exploring and expanding your agency's cloud environment, particularly a multi-cloud one, where the benefits of diverse services and platforms come with management challenges and cloud sprawl.
GAO calls on Energy Department to bolster competition for management contracts. A new report from the Government Accountability Office has tasked the Department of Energy with crafting more competition in its contract acquisition process after observing fewer bidders in certain awards. The report examined 15 contract competitions between fiscal 2015 and 2020 that had a total potential value of more than $150 billion as of October 2021, noting that the competition for management and operations, or M&O, included fewer bids than other contract solicitations.
Federal Programs: Approaches to Help Create a Useful Inventory. The federal government spends trillions of dollars on various programs each year. However, it does not have an inventory of all federal programs—despite a 2011 law requiring that one be available on a public website. An annually updated inventory of federal programs would help the public better understand what the government does, what it spends, and what it achieves each year. Developing such an inventory is a complex undertaking. Ensuring that federal leaders remain committed to the effort, and frequently engaging stakeholders, will be critical to its success. Learn more from this new GAO report. 
Remote Work: Transitioning from a Social Distancing Measure to a Human Capital Strategy. The former executive director of the Pandemic Response Accountability Committee argues that forcing fed workers to show up at a physical location may alienate and demotivate them and impact productivity. Remote work has evolved from an ad-hoc exception to now a promising human capital tool that can be strategically employed to enrich an organization's ability to recruit the best talent, to retain its higher performers, and to better represent America's communities.
DISA Leaders Outline 2023 Priorities. There are three big things that leaders at the Defense Information Systems Agency (DISA) plan to prioritize in 2023: how is the agency postured to meet the threats of today, how the agency can position itself to be at an advantage, and how to increase and improve partnerships.
Army now has one IT system for all pay, personnel functions. After a decade of planning, years of development, multiple delays and more than $1 billion in spending, the Army crossed a huge milestone in modernizing its HR systems last week: The Integrated Personnel and Pay System-Army (IPPS-A) went live for its entire population of 1.1 million soldiers. The National Guard has been using IPPS-A since 2020, but last week's rollout marks the first time the Guard, the reserve and the active duty Army have been on the same IT system for both their pay and their personnel functions.
Virginia CIO Aims Toward 'Agile Everything'. Robert Osmond, chief information officer (CIO) at the Virginia Information Technologies Agency (VITA), outlined this week how "agile everything" is the direction he wants the state tech agency to take digital workflows. He explained how getting quicker and more efficient is a key for the agency's success, and adopting an agile solutions mindset is the way to reach that goal. 
Be clear on what "passion" means to create it at work. Leaders need to be clear what "passion" at work means or they may create disengagement or confusion in team members who feel they can't turn down requests or discover their own "passion" doesn't mesh with the company's ideals, says Harvard Business School assistant professor Jon Jachimowicz. Leaders must learn how to manage their own passion as well as that of their employees and create a culture that encourages it, Jachimowicz says. Jachimowicz offers four suggestions, including conducting a "passion audit" to uncover their employees' definitions and the challenges they feel they're facing to achieve it. Harvard Business School Working Knowledge
Procrastination is the result of these 3 obstacles. Procrastination may be the result of feeling like you don't have a choice, the task doesn't create a sense of connection, or you may not feel competent to accomplish it, writes Susan Fowler, who provides a real-time demonstration of how investigating these three areas motivated her to move on a delayed task. "Without optimal motivation, you can't generate the vitality needed to take action," Fowler writes. Take one of the tasks you're hesitant to finish through the three step process and see whether it's a matter of choice, connection or competency -- or perhaps all three. Once you spot the challenge, it's more likely that you can complete the task. SmartBrief/Leadership
How to lead confidently when the world is in chaos. Leaders can create a sense of stability during turbulent times by keeping their overall mission in mind, communicating clearly with employees and setting the example for resilience and transparency, says Steve Oriola, president and CEO of Act!, who began his tenure right before the pandemic. "By leading with confidence, you can instill your colleagues to not only have confidence in you and the business, but also within themselves," Oriola says. Medium (tiered subscription model)/Authority Magazine
Next Week on The Business of Government Hour: Thriving on Disruption: A Conversation with Roger Spitz. How can we make sense of a complex, nonlinear, and unpredictable world? What tools, frameworks, and insights can help leaders turn uncertainty into opportunity? How do we rise above resilience or adaptability to thrive on disruption?  Join host Michael Keegan for a Special Edition of The Business of Government Hour as he explores these questions and more Roger Spitz coauthor of The Definitive Guide to Thriving on Disruption: A Collection of Four Volumes.
Broadcast Schedule: The show airs Monday at 11 a.m., and Friday at 1 p.m. on Federal News Network 1500AM WFED