Submitted by

MKeegan

on Fri, 01/07/2022 - 14:21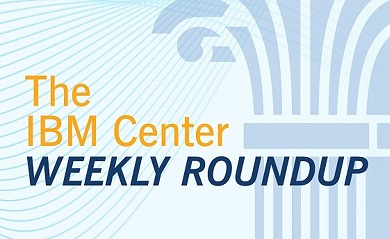 Highlighting articles and insights that we have found interesting for the week ending January 7, 2022
Making the Customer Service Executive Order Really Work. Among the keys: making permanent the flexibility to pursue innovation through technology and multi-sector partnerships. As with any major reform effort, success will be defined in many ways and determined by many factors. But clearly, early and quick "wins" are critical. The good news is that, despite the complexity of many of the challenges, the opportunities for those wins are available. The key is to identify and jump on them without delay, but to also do so in a truly strategic manner.
Delivering a Rapid Digital Response to the COVID-19 Pandemic. The COVID-19 pandemic has arguably been our era's greatest threat to humanity and the global economy. South Korea's first confirmed case was in January 2020, followed by an outbreak in the city of Daegu in mid-February. However, South Korea quickly and effectively contained the pandemic and became an exemplar for other countries.
Feds Step Up Cybersecurity Support for State Governments. The Cybersecurity and Infrastructure Security Agency is actively working to help states strengthen their cybersecurity efforts by setting up a 50-state network of federal cybersecurity coordinators, one per state. Forty-two advisers have been appointed or are in the process, with eight states still needing federal-level coordinators.
Analysis | A cyber commission was Congress' secret weapon. For three years, the Cyberspace Solarium Commission played a role in a huge share of cyber bills.
Note to managers: A little recognition goes a long way. Steve Kelman shares research on the impact a simple thank-you note can have with the workforce.
A stabilizing force: Outgoing Weather Service director reflects on tenure.  long-time public servant & Academy Fellow Louis Uccellini, a 32-year veteran of the National Weather Service reflects on his tenure leading the NWS.
How stress affects your brain -- and your leadership. The stress of leadership can literally affect your brain's prefrontal cortex, resulting in behavior that may adversely affect you and others, writes Amelia Haynes of the Korn Ferry Institute. Haynes recommends deliberate practices such as mindfulness and time for relaxation to rewire the brain. Chief Executive
How C-suite support can grow an "agile forest". Seven factors can determine whether companies effectively implement agile strategies in a consistent way across the organization, write Gagan Prakash and Matthew Siegel of Strategy&. Successful agile transformations involve people from all functions and departments, receive "actionable mandates and support from the C-suite" and measure success with different metrics depending on the stage of transformation. Strategy+Business  
Seven Things to Stop Doing as a Leader This (and every) Year. The late, great management thinker Peter Drucker once offered: "We spend a lot of time teaching our leaders what to do. We don't spend enough time teaching them what to stop." As you search for new resolutions and ideas to grow and strengthen in your leadership role in the months ahead, here are seven things I suspect Drucker would encourage you to stop.
Becoming a More Humane Leader. Most of us think we have to make a difficult, binary choice between being a good person or being a tough, effective leader. This is a false dichotomy. In truth, doing hard things is often the most human thing to do. There are two key ingredients — wisdom and compassion — and it takes learning and practice to lead with both, as well as some unlearning of conventional management habits. There are four important techniques you can apply in being a wise, compassionate leader: Remember the Golden Rule; Listen intently; Ask yourself how you can be of benefit; Stretch people to see their potential.
* * * *
Next Week on The Business of Government Hour: A Conversation with Author Sarah Stein Greenberg on Creative Acts for Curious People. What are design principles and tools for innovation? How can design principles and practices help government executives transform how government does business and meet its missions? What strategies can leaders employ to achieve a design mindset? Join host Michael J. Keegan as he explores these questions and more with Sarah Stein Greenberg, Author of Creative Acts for Curious People: How to Think, Create, and Lead in Unconventional Ways. Next week on The Business of Government Hour.
Broadcast Schedule: The show airs Monday at 11 a.m., and Friday at 1 p.m. on Federal News Network 1500AM WFED