Submitted by

TFryer

on Mon, 01/22/2018 - 20:49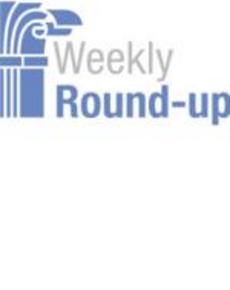 The IBM Center's Weekly Round Up highlights articles and insights that we found interesting for the week ending January 30.
Show Me the Evidence. An Obama Administration initiative to fund social programs relies on one critical factor. Agencies had to use a data-driven and evidence-based approaches for planning and spending. Ron Haskins, senior fellow for economic studies at the Brookings Institution and author of "Show Me the Evidence," explains in an interview on "In Depth with Francis Rose" how the evidence-based funding approach works. Using the Evidence. In a guest article in Government Executive, Kate Bender, the Deputy Performance Officer in the Office of Performance Management in the City Manager's Office in Kansas City, Missouri, shares how hard facts plus citizen perceptions leads to prosperous communities. She says that in Kansas City, " . . . creative data scientists are integrating open, online public data with citizen surveys to produce a rich and innovative perspective on citizen satisfaction with city services." Grading Plain Language. Michael O'Connell, Federal News Radio, reports that "Writing at government agencies is improving, but it could be better. That's the message of the newly released 2014 Federal Plain Language Report Card. Each year, the Center for Plain Language (CPL) examines documents from federal agencies to determine if they are effectively meeting the goals of the Plain Writing Act of 2010, which encourages agencies to make public documents easier to understand by using plain language." VA Reorganization in the Works. Kelly Lunnie, Government Executive, reports: "The Veterans Affairs Department is reorganizing its labyrinthine structure into a single, five-region national framework as part of a large-scale effort to improve services to veterans and reduce an entrenched bureaucracy responsible for mismanagement throughout the organization." Why Did I Join the Government? Mikey Dickerson -- the Administrator of the U.S. Digital Service and the U.S Deputy Chief Information Officer – writes a personal story about why he and other Silicon Valley tech stars have quit their private sector jobs and come to Washington to create the U.S. Digital Service. Worth reading. Customer Satisfaction with Government Services Declines, Again. While the economy improves, public satisfaction with government services deteriorates. According to Michael O'Connell, Federal News Radio, "The American public's satisfaction with the services it receives from the federal government continues to decline, according to a new report from the American Customer Satisfaction Index. O'Connell notes that this year's score "is the lowest since 1999, when ASCI first began measuring the public's satisfaction in the federal government." Anti-Hacker's Guide - via Wiki. NextGov's Frank Konkel reports that, after the hacks of the Twitter and YouTube accounts of U.S. Central Command in early January, the SocialGov Community (comprised of hundreds of digital engagement managers across government) banded together to create a working group to compile best practices. They created the Social Media Cyber-Vandalism Toolkit, which is a wiki that can be updated real-time by members to help each other. Michael J. Keegan Federal health IT coordinator sets 2017 deadline for interoperability. A new report from the federal health IT coordinator calls for most providers to be able to use their EHR systems to send, receive and use "a common set of electronic clinical information ... at the nationwide level by the end of 2017." Lawmakers Unveil Discussion Draft for Medical Innovation Package. The House Energy and Commerce Committee unveiled a discussion draft of the bipartisan "21st Century Cures" legislative package aimed at increasing medical innovation, in part by expanding health IT. The draft package includes proposals to increase telehealth use in Medicare and accelerate data sharing Study Recommends Ways To Better Measure the Value of Health IT. A new study proposes a framework for researchers to use in future reviews of health IT to provide a more comprehensive analysis of the technology's value. For example, the authors say that researchers must take into account that value varies by perspective and accrues over time. Healthcare IT News, American Journal of Managed Care. DoD's proposals aim to simplify 'mindboggling' acquisition rules. The Defense Department submitted seven legislative proposals to Capitol Hill Wednesday to simplify its acquisition process. But just don't call them reforms, they are improvements, said Frank Kendall, the undersecretary of Defense for acquisition, technology and logistics. Kendall told the House Armed Services Committee Wednesday that reforms imply there is some big change, or some big initiative that can fix the acquisition system. But that is just not the case with these proposals. TRICARE, retirement benefits targeted in military panel's long-awaited recommendations. U.S. officials say an independent commission is recommending broad changes to the military's retirement and health care systems that could save more than $20 billion over the next four years. According to officials familiar with the report, the panel is recommending that the military's TRICARE health care system largely be replaced, giving families the ability to choose from a wider menu of insurance plans, similar to those used by federal employees. Dan Chenok Administration's Budget, being released next week, to propose end to sequestration, new spending at levels above current caps: http://www.federaltimes.com/story/government/management/budget/2015/01/29/obama-budget-2016/22540483/ http://www.govexec.com/oversight/2015/01/obamas-budget-will-soar-way-abo... DOD Accelerates move to the Cloud: http://www.nextgov.com/cloud-computing/2015/01/pentagon-accelerates-move-cloud-computing/104112/ GSA announces new guidance for approving cloud apps at high security levels through FedRAMP: http://www.federaltimes.com/story/government/it/cloud/2015/01/28/officials-want-thoughtful-comments-fedramp-high/22476787/ The Business of Government Radio Show: Conversations with Authors Series with Professors Lael Keiser and Susan Miller The Business of Government Hour features a conversation about management with a government executive who is changing the way government. How do outreach organizations assist government agencies in delivery services? What dynamics lead to effective collaboration between these outreach organizations and government programs? Join host Michael Keegan as he explores Collaboration between Government and Outreach Organizations: A Case Study of the Department of Veterans Affairs with Professors Lael Keiser and Susan Miller on A Special Editor of The Business of Government Hour -- A Conversation with Authors. Broadcast Schedule: The show airs Monday at 11 a.m., and Wednesday at noon, on Federal News Radio 1500AM WFED If you can't wait, though, you can listen to (or download) this week's program and all our previous interviews at businessofgovernment.org and by searching our audio archives.