Submitted by

MKeegan

on Fri, 07/30/2021 - 14:57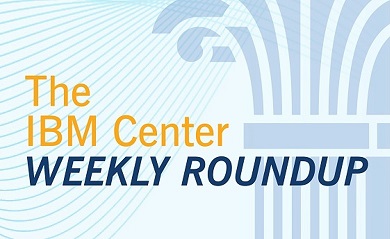 Highlighting articles and insights that we have found interesting for the week ending July 30, 2021
Roat Says TMF Board Still Accepting Proposals, Offers Bid Tips. Deputy Federal CIO Maria Roat confirmed July 28 that the Technology Modernization Fund (TMF) is still accepting proposals for IT modernization projects under a solicitation announced in May, and offered tips to agencies looking to score some of the $1 billion in funding the TMF received as part of the American Rescue Plan. In addition to her duties at OMB, Roat is also an alternate board member for the TMF Board where she's focused on looking for proposals that "move the whole of government to that consistent baseline of maturity in cybersecurity and privacy protections," she said during a July 28 Palo Alto Networks event.
Now is the time for a federal cloud modernization moonshot. It needs to do this to modernize all practical legacy civilian IT systems within a decade. COVID vividly demonstrated the importance of our IT systems to a resilient and robust economy. Yet from security breaches to delayed tax processing, the weaknesses of government IT systems are well known.
FITARA 12.0: 60 Percent of Fed IT Spending Maintains Legacy Systems. While progress in modernizing government technology is one of the overarching themes of the bi-annual FITARA scorecard issued by the House Oversight and Reform Committee, an official from the Government Accountability Office (GAO) testified on July 28 that the Federal government still spends over 60 percent of IT spending on maintaining legacy systems. That estimate came at the House Government Operations Subcommittee's hearing on the 12th edition of the FITARA scorecard when GAO Director of IT and Cybersecurity Carol Harris said the legacy-spend percentage contrasts with just 13 percent of Federal IT spend being used for IT modernization.
New Cyber Research: Government Leaders See Path to Zero Vulnerability While Federal cybersecurity leaders have prioritized detection, remediation, and zero trust policies due to the recent flood of cyberattacks, new research – "Containing the Cyber Threat Tsunami" – uncovers the desire to shift the current security mindset to a greater emphasis on breach prevention. The research study surveyed more than 300 cybersecurity leaders across Federal, state, and local government. The top-line findings show a grimly realistic outlook – 70 percent estimate their high-value assets (HVAs) have been potentially compromised in the past 12 months, and half believe there will be a "cyber 9/11" event in the next 10 years in which lives will be lost due to a cyberattack.
The Time Tax: Why is so much American bureaucracy left to average citizens? Government programs exist. People have to navigate those programs. That is how it goes. But at some point, I started thinking about these kinds of administrative burdens as the "time tax"—a levy of paperwork, aggravation, and mental effort imposed on citizens in exchange for benefits that putatively exist to help them. This time tax is a public-policy cancer, mediating every American's relationship with the government and wasting countless precious hours of people's time.
Evidence-Based Policymaking: Survey Data Identify Opportunities to Strengthen Capacity across Federal Agencies. Federal decision makers need evidence—such as data and the results of studies—to determine if programs are working as intended and identify potential improvements. We surveyed about 4,000 federal managers in 2020, and nearly all respondents said they had at least one type of evidence available for their programs. However, many fewer reported that their agencies had sufficient capacity (e.g., staff with skills) to develop and use evidence, or were taking actions to enhance it (e.g., providing training). GAO recommended that the Office of Management and Budget work with key partners to use the results of our survey to improve agencies' capacity.
VA Deputy Secretary Tapped to Oversee EHR Program. Department of Veterans Affairs (VA) Sec. Dennis McDonough has tasked Deputy Secretary Donald Remy to oversee the department's troubled Electronic Health Record Modernization (EHRM) program. The move comes after a recent VA Office of the Inspector General's (OIG) report that found an additional $2.5 billion in unreported IT infrastructure upgrade costs, which could put the program cost up to $5.1 billion more than estimated. During a July 14 Congressional hearing, McDonough called the program's missteps "extremely disappointing," but told members of Congress that he is proposing a new approach for the program he hopes will get VA's efforts "back on track."
Today's hybrid workplace is a preview of tomorrow's. Hybrid work will ultimately evolve into human-robot collaboration, and today's environment is an early test of our readiness for that workplace future, says Tsedal Neeley of Harvard Business School. While there's a reason for in-person work, "when you bring people into the office, it better be for collaboration efforts where you're working together, standing side-by-side, looking at a smart board together," Neeley says. Harvard Business Review (tiered subscription model)
How to solve for paradoxes. Our work lives can be full of paradox, and the way through is not to deny this state but to "learn through it by changing your perspective, gathering more information, and getting a broader view," writes Linda Fisher Thornton, CEO of Leading in Context. Looking for the missing information in the face of paradox helps us be more ethical and effective as leaders, Thornton argues. Leading in Context
5 steps for helping someone accept business risks. Winning buy-in for risk recognition and mitigation efforts starts with matching the emotions of the party failing to see the danger, writes Gleb Tsipursky, CEO of Disaster Avoidance Experts, who offers a five-step process. "Without arousing a defensive response, show them how their risk denialism will lead to them undermining their own long-term goals," Tsipursky writes. Real Leaders
Reflection and practice can make you a better speaker. People who struggle to be understood might be speaking too fast or too quietly, or they might be trying to show off their authority and knowledge of big words, writes Calendar CEO John Rampton. This article offers several possible steps for improving your spoken communication, including writing more, consulting a thesaurus and avoiding jargon. Calendar
****
Next Week on The Business of Government Hour: A Conversation with Joel Gurin on Aligning Open Data, Open Source, and Hybrid Cloud Adoption in Government. How do analytics and technology intersect and mutually reinforce one another? What can be done to integrate these efforts more effectively? How can government leaders leverage the intersection of open data, open source, and hybrid cloud models to drive improved performance an productivity. Join host Michael J. Keegan as he explores these questions with Joel Gurin coauthor of the IBM Center report, Aligning Open Data, Open Source, and Hybrid Cloud Adoption in Government, and President of the Center for Open Data Enterprise (CODE).          
Broadcast Schedule: The show airs Monday at 11 a.m., and Friday at 1 p.m. on Federal News Network 1500AM WFED