Submitted by

MKeegan

on Fri, 06/16/2023 - 15:26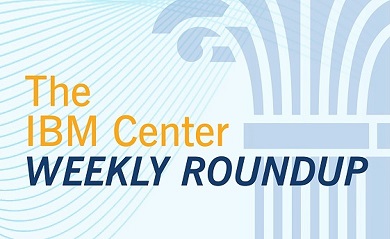 Articles & insights in public management & leadership that we found of interest for the week ending June 16, 2023
 NEW GAO SCIENCE & TECH SPOTLIGHT: GENERATIVE AI. Generative AI systems—like ChatGPT and Bard—create text, images, audio, video, and other content. This Spotlight examines the technology behind these systems that are surging in popularity. These systems are trained to recognize patterns and relationships in massive datasets and can quickly generate content from this data when prompted by a user. These growing capabilities could be used in education, government, medicine, law, and other fields. But these systems can also generate "hallucinations"—misinformation that seems credible—and can be used to purposefully create false information. Other challenges include oversight and privacy concerns.
VA Looks to Implement New Risk Assessment Framework. The Department of Veterans Affairs (VA) is looking to implement a new risk assessment framework that will bring standardization and consistency to authorization decisions. The move comes in response to a repeat recommendation from the VA Office of Inspector General (OIG). In the VA OIG's Federal Information Security Modernization Act Audit for Fiscal Year 2022, the OIG made 26 recommendations for the VA to improve its information security program – the same number of recommendations from fiscal year (FY) 2021.
Industry Leaders Call CISA's BOD a 'Step in the Right Direction'. The Cybersecurity and Infrastructure Security Agency's (CISA) binding operational directive (BOD) issued this week is a "step in the right direction," according to industry leaders, who are eager to see its effectiveness in protecting network management interfaces from the public-facing internet.
CDC Taking Foundational Steps Towards AI Implementation. The Centers for Disease Control (CDC) is in the very early stages of utilizing generative AI technologies to advance the agency's mission and bring better health services to the public, according to an agency official.
Feds Key on Benefits, Challenges of Zero Trust. Federal agencies have been tasked with implementing zero trust architectures to protect valuable systems, networks, and data from cyber threats. However, there is no one size fits all zero trust implementation plan. Gerald Caron III, chief information officer for the International Trade Administration at the U.S. Department of Commerce, said one challenge in implementing zero trust security is shifting staffers away from the traditional 'castle and moat' security ideology. "With such a large organization it is difficult to manage every device that is trying to access data," he said. "But that is not what zero trust is, it's about understanding your data flows. If you don't have that baseline of understanding it's going to be awful hard to protect things when things go sideways."
Air Force finds new ways to recruit cyber professionals. A new career track for Air Force cyber professionals could see its initial cohort as early as 2024. The cyber tech track will start as a beta testing program using an existing group of officers in the cyber workforce. The initial testing phase will also explore offering a similar program to other technical specialties. As part of the cyber track career path, service members can stay in cyber billets throughout their careers instead of rotating to other positions in a line officer progression.
Securing the software supply chain – Analysis of the new national cybersecurity strategy. In March, the White House unveiled a new National Cybersecurity Strategy, which deviates from the National Cyber Strategy rolled out by the Trump administration in 2018. Among the changes implemented in the new strategy is a call to "rebalance the responsibility" of defending cyberspace, including a move away from end users and toward the "most capable and best-positioned actors," including owners and operators of key technologies and infrastructures.
Trust in Government Is Up, but It's Too Early to Pop the Champagne Corks. The numbers are still at historical lows. Civic engagement is the most important factor in building trust in our institutions, and our communities need to find better ways to encourage active participation in civic life.
Six Lessons In Leadership From Award-Winning Authors. Good leaders are always looking to improve. One good way to finesse your leadership skills is to catch up with the latest in leadership thinking. So, what lessons in leadership can we learn from the winners of this year's Business Book Awards?