Submitted by

MKeegan

on Fri, 06/24/2022 - 12:49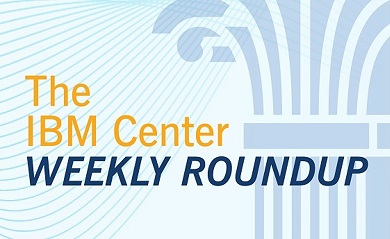 Highlighting articles and insights in public management and leadership that we have found of interest for the week ending June 24, 2022
Six Big Government Success Stories of the Last Two Decades. There are several areas where elected officials and government employees at all levels excelled at problem-solving and succeeded in improving the lives of Americans. Some of their efforts attracted great attention (even if it tended to fade rather quickly). Others never received widespread attention. Here are six examples.
What is RegTech and what does it mean for policymakers?  Amidst the world's current structural uncertainty, efficiency, clear accountability and effective collaboration in our regulatory systems have never been more critical.  Regulators with an eye on the future are harnessing the power of Regulatory Technology (RegTech). RegTech responds to the urgent need for transparency and flexibility in modern regulatory practices and marks the shift from reactive to dynamic regulation. For policymakers, this means an increasing focus on trust, open access and agility while maintaining a human-centered approach.
Agile Regulation: Gateway to the Future with Michael Fitzpatrick. On this episode, we welcome Michael Fitzpatrick, Director of Global Strategy & Innovation at Google and Academy Fellow, to discuss the new Academy report on Agile Regulation, the need for innovative regulatory methods in today's world, and how agencies can implement the report's recommendations.
Transforming Technology Procurement. In our first blog, we wrote how many governments around the world are updating how they procure technology.  The goal is to reduce risk and get higher value out of investments -- especially from complex systems integration programs.  We highlighted three common approaches to those changes, and will next describe two additional approaches, five lessons learned, and five key takeaways.
Federal Cyber Rotational Program Becomes Law. The Federal Rotational Cyber Workforce Program Act of 2021 will create a rotational cyber workforce program, enabling Federal employees to rotate among different government agencies, and allowing them to gain experience beyond their primary assignments and expand their professional networks. The bill also authorizes an agency to determine whether a workforce position involving information technology, cybersecurity, or other cyber-related functions in that agency is eligible for the program.
Pentagon Releases Responsible AI Strategy. The Department of Defense (DoD) published its Responsible Artificial Intelligence (RAI) Strategy and Implementation Pathway (S&I) today, providing a clear path forward for the Pentagon's AI efforts. The 47-page document will help the DoD to carry out its AI Ethical Principles – developed in February 2020 – through six foundational tenets: RAI governance; warfighter trust; AI product and acquisition lifecycle; requirements validation; responsible AI ecosystem; and AI workforce.
Administration Announces New Nomination for OSTP. President Biden has nominated Dr. Arati Prabhakar to serve as the director of the Office of Science and Technology Policy (OSTP). If confirmed, she will be the President's Chief Advisor for Science and Technology and co-chair of the President's Council of Advisors on Science and Technology. She will also be a member of the President's Cabinet.
NEW: Agency Priority Goal quarterly updates are now live on! To view these updates from the http://Performance.gov homepage, click "Agencies" at the top of the page & select a specific agency from the dropdown menu.
How Are Governments Using ARPA Funds? So Far, Very Slowly. Congress responded to the COVID crisis by allocating unprecedented sums to help cities and states recover. Early data about how they are using the money suggests that big spends can have complications.
3 ways to avoid overreacting to perceived threats. Leaders are sometimes subject to what psychiatrist Randolph Nesse calls the "Smoke Detector Principle," when we experience heightened stress even though circumstances don't warrant it, Ed Batista writes, noting that most smoke alarms just signal low-emergency fires. Batista offers three solutions, including slowing down our response to alarming events and being mindful of how emotions can overtake us. Ed Batista Executive Coaching
Steps every strategy needs for success. Developing a plan to achieve future outcomes involves seeing things first "as is" and then establishing a "should be" vision and setting short- and long-term goals along with a timetable for action, writes Steve Keating. Making adjustments along the way is crucial, as a common pitfall "is tossing the plan in the trash as soon as the first unplanned obstacle pops up," Keating writes. LeadToday
Why technologists should have leadership roles. Too many large, established companies are too quick to discount new technologies and fail to give their technical leaders the platform they deserve, says Marc Andreessen, co-founder of venture capital firm Andreessen Horowitz. "Find the smartest technologist in the company and make them CEO," Andreessen advises. McKinsey
3 AI approaches that can enhance business strategy. Developments in artificial intelligence are making the technology available to a broader range of organizations, write Accenture executives H. James Wilson and Paul Daugherty, who outline three such innovations companies can use in their strategic planning. Companies seeing success are those that can align strategy and technology while maintaining a human touch, they write. Harvard Business Review (tiered subscription model)
Why leaders need everyone to be good decision-makers. Leaders are always making decisions, but business professors Don Moore and Max Bazerman argue in their new book, "Decision Leadership," that leaders must also create processes that help "their direct reports, the broader organization, consumers, investors, and other stakeholders to make decisions that maximize collective benefit through value creation." The authors make several recommendations including creating diverse teams to make better decisions. Strategy+Business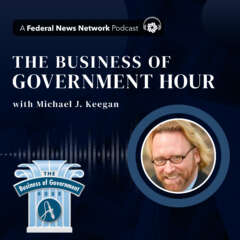 Next Week on The Business of Government Hour: Reforming DoD's Planning, Programming, Budgeting, and Execution (PPBE) Process - A Conversation with John Whitley. How does the U.S. Dept of Defense allocate and manage its resources? What is the Planning, Programming, Budgeting, and Execution (PPBE) system? How can PPBE Reform Commission address weaknesses in this system? What pitfalls should it avoid? Host Michael Keegan explores these questions and more with John Whitley former acting secretary of the U.S. Army and author of the IBM Center report, Three Reforms to Improve Defense Resource Management.
Broadcast Schedule: The show airs Monday at 11 a.m., and Friday at 1 p.m. on Federal News Network 1500AM WFED
Anytime, Anywhere on...
https://www.podcastone.com/the-business-of-government-hour
https://itunes.apple.com/us/podcast/the-business-of-government-radio-