Submitted by

sfreidus

on Wed, 12/27/2017 - 10:15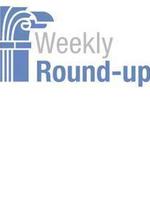 Weekly Roundup March 25, 2016 Posted by: Michael J. Keegan Friday, March 25, 2016 - 15:37 The IBM Center's Weekly Roundup highlights articles and insights that we found interesting for the week ending March 25, 2016.
Do health IT and privacy rules need a refresh? Training and definitions may prove the modest start of national health IT improvement, though lawmakers signaled skepticism even as they acknowledged problems in the current regime. "We haven't realized the full potential of health IT for every person in this country," acknowledged National Coordinator for Health Information Technology Dr. Karen DeSalvo, speaking of electronic health records at a March 22 hearing of the House Oversight and Government Reform Subcommittee on IT.
Presidential cybersecurity commission gets a director. Kiersten Todt has been appointed executive director of the Commission on Enhancing National Cybersecurity, the Commerce Department announced. Todt comes to government from Liberty Group Ventures, where she worked as president to craft diverse risk management solutions.
Ensuring America's Iconic National Parks Survive the Next 100 Years. Jonathan Jarvis has donned National Park Service garb for 40 years. So the agency's 18th director feels entitled to a few opinions on how to modernize its operations during its 100th anniversary year. A host of celebratory public events are planned, something Jarvis said he hopes will move his 22,000 employees to "connect with and create the next generation of park visitors, supporters and advocates." Laid out in a document titled "A Call to Action," the centennial has been five years in the planning. 
John Kamensky
OPM Hiring Myths.  Federal News Radio reports that the Office of Personnel Management has launched a road tour around key federal regional centers around the country to bring much-needed training to personnel staff in agencies in the field, noting: "guidance and tools OPM distributes at the headquarters level at many agencies often don't filter down to the agency field components."
Prepared Remarks by Government's Top Procurement Official.  Ann Rung, administrator of the Office of Federal Procurement Policy in the Office of Management and Budget, spoke at a conference recently, asking: "have we simplified our own Federal acquisition marketplace to keep pace with the incredible opportunities provided by technology?"
Lessons in Category Management.  Anne Rung, at the same conference, observed (as reported by Government Executive) that one of her key initiatives – category management – was inspired by the British government, but that the Brits an easier go at it.  The UK operates on a smaller scale, puts people in charge of the initiative full-time, and pays them better. . . and gets better results, as a result!
7 Things No One Tells a New CIO. Federal Computer Week asked both current and former agency CIOs what they didn't know when they started and desperately wish they had.  Here's the list.
New OMB Data Center Policy.  Randy Bogess writes in NextGov that a draft OMB policy for optimizing data centers "has for the most part been well received by government and industry. The Office of Management and Budget Data Center Optimization Initiative supersedes the Federal Data Center Consolidation Initiative launched by the OMB in 2010, and is designed to advance efforts beyond the physical closing of data centers to IT optimization."
Blockchain on Government Horizon.  According to Government Computer News: "Blockchain technology, which promises a radically new way of securely completing transactions between various parties, is starting to attract government's attention after industry moves to build a base for future applications that use the technology."
John W. Lainhart
OMB annual report says agencies reported 77,183 Cyber Incidents in Fiscal Year 2015. During Fiscal Year 2015, federal agencies collectively reported 77,183 cybersecurity incidents – a 10% increase from the number reported in the previous year.  The report issued on March 18, indicates that "the increasing number and impact of these incidents demonstrate that continuously confronting cyberthreats must remain a strategic priority. Federal agencies received a D average, or 68 percent, on their ability to detect unauthorized software and prevent it from executing, according to the report. The report highlights a new initiative unveiled in the President's 2017 budget – the Cybersecurity National Action Plan – which requires agencies to undertake a number of steps to boost digital security across the government and private sector. 
Officials say 'ransomware" infections increase as more victims pay hackers. In a nine-month period in 2014, FBI received 1,838 complaints about ransomware and it estimated that victims lost more than $23.7 million.  The next year, the FBI received 2,453 complaints and victims lost $24.1 million. According to the FBI, this is "definitely a growing threat.  Success breeds more activity."  Beyond, the lost dollars and compromised data, the disruption to a business, especially if it has not backed up data, can be significant.