Submitted by

sfreidus

on Wed, 12/27/2017 - 12:45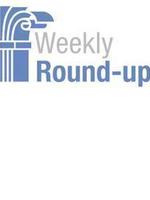 The IBM Center's Weekly Roundup highlights articles and insights that we found interesting for the week ending March 4, 2016.
Legislating the "Internet of Things."  Federal Computer Week reports that a bipartisan group of senators are sponsoring legislation that: "directs the Federal Communications Commission to assess spectrum needs required to support the IoT and convenes a working group of federal agencies and private-sector stakeholders to advise Congress on how to plan for and grow the new technological space."
 Pearls Hidden in President's Budget,  Shelley Metzenbaum, writing in Government Executive, says that the social indicators chapter of the budget tells a good story:  "Despite the gloom-and-doom stories we read every day, progress is being made in many areas, including infant mortality, crime, births to young unmarried women, college graduation, patents, and real disposable income."
 Digital Services Question Authority.  Federal News Radio reports: "More than a year after agencies began to embed digital services teams into their organizations, some are beginning to challenge [their agencies'] often outdated and misinterpreted federal policies to develop new customer-focused products and tools."  The team at the Department of Veterans Affairs says the "purpose of the work we're doing is to serve people, not to just follow rules without asking questions."
 There Are 7 Steps to Better Customer Experience.  Former GSA executive Martha Dorris writes in Government Executive that: "Customer experience is a relatively new discipline in the government though, with room for many leaders to drive the transformation of citizen services across the government. . . . There are seven steps you can take to become a CX leader in government."
 Survey Says "Use Email."  According to FedScoop, " . . . a new survey that determined 70 percent of Americans would rather hear from the U.S. government via email."
Improper Payments Increase.  Federal News Radio says: "Federal agencies issued an estimated $136.7 billion in improper payments during fiscal year 2015, the largest annual tally since 2004 when agencies first began reporting data on the subject."
Presidential Transition Legislation Advances.  Federal News Radio reports that Congress has sent bipartisan legislation to the president for signature:  "The bill would require the White House to create an interagency team of senior officials at least six months before Election Day. The group would develop an integrated strategy for transition from one president to the next. A career employee at the General Services Administration would serve as federal transition coordinator."
Category Management CEOs Named.  Federal News Radio reports: "The Obama administration's decision to name 11 executives to lead the government down the path toward better buying is one of 23 actions it has taken over the last 15 months to implement category management." . . .  Anne Rung, the administrator of the Office of Federal Procurement Policy, "named 11 category managers on Feb. 25 to bring 10 commodity buying areas under better control by conducting spend analysis, market research, financial and supply chain risk analysis, and using this information to develop strategic plans specific to the category with clear metrics and outcomes."
Federal Executive Boards Tout Successes. Federal News Radio reports:  "On March 1 the Office of Personnel Management released the 2015 FEB report, assessing the health and wellness of FEBs across the country in workforce development, emergency preparedness and community outreach. . . . Among the accomplishments of the FEBs include savings of $8.8 million in training costs and more than $18.9 million through dispute mediation in fiscal 2015. . . . The 28 FEBs, located in areas of concentrated federal presence, facilitate local communication and cooperation among agencies while establishing a central point of contact between Washington and the field offices."
John Lainhart
Details emerge about planned digital security commission. A draft version of a bill from Rep. Michael McCaul (R-Texas), chairman of the House Homeland Security Committee, and Sen. Mark Warner (D-Va.), a member of the Senate's Select Committee on Intelligence, calls for a 16-member panel consisting of experts in technology, cryptography, law enforcement, intelligence, privacy, global commerce and national security. The commission would bring together analysts, policymakers and law enforcement officials to find ways to mitigate "the dangers posed by the use of digital security and communications technology by terrorists and criminals [and] determine the implications for national security, public safety, data security, privacy, innovation and American competitiveness in the global marketplace."
CYBERCOM Chief Says More Industry Heads Will Roll After Hacks. The commander of the military's cybersecurity forces (Adm. Mike Rogers) warned Monday that more corporate heads will roll as companies continue to overlook security holes. But at federal agencies – and, still, in many private firms – executives have been slow to take the blame for hacks.
Michael J. Keegan
Carter sizes up emerging technology in Silicon Valley visit. Defense Secretary Ash Carter is pushing to solidify the Defense Department's relationships in Silicon Valley in the final year of the Obama administration.
When agile development is change management in disguise. The current and former heads of 18F agree that when it comes to digital services, the tech is often secondary at best.
GSA's Roth quizzed over IT modernization fund. Lawmakers are unsure whether the $3.1 billion plan to fund a rolling governmentwide tech refresh is a good bet.
SBA not letting agencies rest on contracting laurels. The Small Business Administration is trying to institutionalize accountability across the government for meeting small business contracting goals as well as answer critics by increasing the amount of "eligible" procurement dollars.
DoD's Kendall says 'revolving door' is too thick. DoD's top procurement official said the laws keeping government officials from moving to the private sector are too stringent.
VA may abandon VistA as its long-term electronic health record solution. VA has paused development on "VistA Evolution," the program it's been using for the last several years to modernize its existing electronic health records with help from the open source community.
* * * * *
The Business of Government Radio Show -- Conversation with Authors: Beyond Business as Usual: Improving Defense Acquisition through Better Buying Power. What is the U.S. Department of Defense's "Better Buying Power" initiative? How is DoD promoting competition, providing incentives, reducing bureaucracy, and improving services acquisition? What can federal agencies learn from DoD's Better Buying Power initiatives? Join host Michael J. Keegan as he explores these questions and more with Profs David Van Slyke & Zach Huitink authors of Beyond Business as Usual: Improving Defense Acquisition through Better Buying Power.
Broadcast Schedule: The show airs Monday at 11 a.m., and Friday at 1 p.m. on Federal News Radio 1500AM WFED
If you can't wait, though, you can listen to (or download) this week's program and all our previous interviews at businessofgovernment.org.