Submitted by

cmasingo

on Thu, 12/21/2017 - 11:59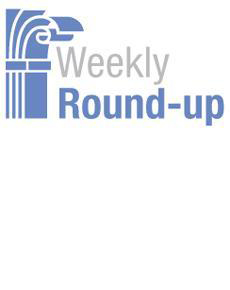 The IBM Center's Weekly Roundup highlights articles and insights that we found interesting for the week ending May 26, 2017.
Michael J. Keegan
GSA chief: Central IT fund is a start, not a remedy. While President Trump's budget proposal includes a $228 million investment for a general IT modernization fund, the head of the agency overseeing the fund sees the initial investment as more of a proof of concept than a panacea.
CBP reports advances in biometrics. Customs and Border Protection may be in the final lap in a long-running effort to develop a workable solution to biometrically verify the identity of travelers when they arrive and depart from U.S. airports, a top agency official told Congress.
CBP looks to consolidate data. Customs and Border Protection is looking to unify its sprawling data center footprint under a single contract.
Budget seeks $2.6 billion for border wall and supporting tech. President Donald Trump's budget request for the Department of Homeland Security won't cover a promised wall along the entire U.S.-Mexico border, but it beefs up border security with other kinds of technology. The White House said its budget would allocate $4.6 billion in additional funding for "programs to strengthen the security of the Nation's borders and enhance the integrity of its immigration system."
President Trump picks Nesterczuk for OPM director. The former OPM and Defense official also served on a transition landing team.
What does a $300 million cut to IRS' budget mean for taxpayers?. Internal Revenue Service watchdogs say the agency could do more in terms of taxpayer services if it had more human and financial resources. The White House proposed a fiscal 2018 budget of $10.9 billion, a cut of roughly $300 million from 2017 funding levels.
John Kamensky
Stars Align for Shared Services.  Federal Computer Week reports: "Federal IT leaders are sending strong signals to market players that they are preparing to shift federal systems to shared services at scale. . . . While shared services have been a fixture of plans to streamline and modernize government for decades, the Trump administration plan for a "comprehensive" reorganization may provide a needed push to make shared services a reality."
USDS, 18F Get Support in Budget.  With the change in Administrations, many wondered if the Trump Administration would keep an Obama-era innovation – the creation of digital service teams.  Now there is an answer.  According to NextGov, "Two Obama-era technology offices received funding in President Donald Trump's proposed budget on par with what they got last year. . . . The U.S. Digital Service, created after the HealthCare.gov debacle to ensure successful more successful rollouts of tech projects, would receive $19 million—the same it got in 2017.
FY 18 Budget: 11 Major Agency Reforms.  Government Executive highlights 11 significant agency reforms in the new budget, including corporatizing the Federal Aviation Administration.
FY 18 Budget: Program Cuts. Government Executive highlights the 10 largest program cuts in the new budget, including the Low Income Home Energy Assistance Program.
FY 18 Budget:  Workforce Restructuring. Government Executive highlights potential job losses in agencies under the proposed new budget; the Environmental Protection Agency would see its workforce cut by 24 percent.
FY 18 Budget: Agency Eliminations. Government Executive highlights the 19 agencies that would be eliminated under the proposed new budget, including the Corporation for Community and National Service.
Most of GSA's Budget Increase Goes to IT Modernization.  Federal Times reports: "GSA received a $300 million budget increase in the White House's spending plan, most of it to supplement the administration's focus on information technology modernization. . . . The $10.5 billion budget will include more than $228 million to establish the Technology Modernization Fund—a central fund managed by GSA for agencies to draw resources for IT modernization projects."
New GAO Report. Technology Assessment: Internet of Things: Status and implications of an increasingly connected world. The rapid, global proliferation of Internet of Things (IoT) devices has generated significant interest. In light of the current and potential effects of the IoT on consumers, businesses, and policy makers, GAO was asked to conduct a technology assessment of the IoT. This report provides an introduction to the IoT and describes what is known about current and emerging IoT technologies, and the implications of their use.

NEXT WEEK on The Business of Government Hour Radio Show: Special Edition a Profile in Leadership.  Who is Dr. David Shuklin? What is his leadership philosophy? What can we learn about him from his time leading the Veterans Health Administration? Join host Michael Keegan next week for a special edition of The Business of Government Hour – A Profile in Leadership as he explores these questions and more. Broadcast Schedule: The show airs Monday at 11 a.m., and Friday at 1 p.m. on Federal News Radio 1500AM WFED.