Submitted by

MKeegan

on Fri, 05/12/2023 - 12:59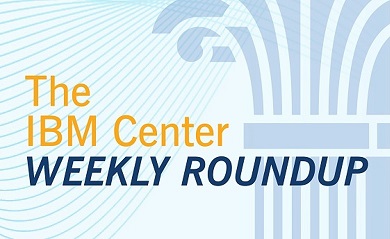 Articles & insights in public management & leadership that we found of interest for the week ending May 12, 2023
What's going on with DHS' enterprise cloud plan? The Department of Homeland Security teased its plan for a 10-year enterprise cloud contract in the fall and then went relatively quiet. Based on previous cloud procurements, that could be a good thing. 
CISA is growing up, CIO says. CISA's Bob Costello talks top priorities, challenges and growing pains and progress for a CIO office in a relatively young federal agency. One big focus, he said, has been a shift to ensuring that the tech his office is rolling out is meeting the needs of the people using it. Postscript: my interview with Bob Costello. 
DoD Rolls Out New Science, Technology Strategy. The Department of Defense (DoD) on Tuesday released the 2023 version of its National Defense Science and Technology Strategy (NDSTS) – released yearly – articulating the need to outpace China in the technology realm and better communicate with Congress and allies abroad. Like the 2022 strategy, the DoD called for outpacing China in quantum science, hypersonic, cyber, artificial intelligence, and related areas in the 2023 strategy.
GSA tools flag diverse suppliers for procurement officials. The Governmentwide Procurement Equity tool, a government-facing resource requiring a federal agency login, helps identify small businesses, vendors that meet specific socioeconomic categories and vendors that are new to the government market. The public-facing Supplier Base Dashboard allows vendors and the public to drill into agency performance when it comes to tapping vendors who are new to the government market or meet various socioeconomic categories. Users can create custom reports by agency, by category management area or drill into specific lines of business. 
Energy Department's cybersecurity program features critical weaknesses, report says. The Department of Energy is suffering from significant issues surrounding identity and access management, in addition to dozens of other concerns detailed in a new inspector general's report. 
Q&A: OPM CIO Guy Cavallo Details Major IT Mod, CX Projects. Guy Cavallo, chief information officer (CIO) at the Office of Personnel Management (OPM) talks about the major projects his team is moving forward with at OPM to both modernize the agency and improve customer experience (CX). Cavallo has long been an IT leader within the Federal government, and through a long stretch run in the private sector. Postscript: check out my interview with Guy Cavallo. 
USPTO Official Offers Three Lessons for AI Implementation. Scott Beliveau, branch chief of advanced data analytics at the U.S. Patent and Trademark Office (USPTO) offers three lessons from the agency's use of AI technologies to optimize its operations. "We really needed a way to better share information with our examiners and get through that process to help them" with faster and higher-quality decision making," says Beliveau.
Thought leadership best left to humans, not AI. Generative artificial intelligence apps like ChatGPT can't know what people are thinking in the moment -- or how and why their thinking changes over time -- which is one reason to avoid using it as a tool for thought leadership, writes Shane Snow, a CEO, author and speaker in the innovation and leadership space. The more important reason: AI can execute a vision but not generate one, writes Snow, who also explains why AI's research is also often flawed. Forbes (tiered subscription model).  Leaders can't become authorities by summarizing others because, "by definition, thought leadership is about getting people to follow your ideas," Snow writes. "More than ever, we need humans -- and organizations -- that are able to introduce new information, research, and ideas to the world."
Turning a page. Steve Kelman reflects on his impending retirement. "I have now written my blog The Lectern, recently rebranded as a "commentary," since I left the government in 1997, so over 25 years. I am endlessly grateful to FCW for this opportunity, and my health and mental acuity permitting, hope to continue to do this for many years to come." 
It's official: No more COVID vaccine mandate for federal workers and contractors. The move comes just days before the end of the public health emergency for COVID and had been expected.  The mandates–issued in September 2021–will end on May 12, Biden said in an executive order. The move had been expected following an announcement from the White House earlier this month, and will coincide with the end of the COVID public health emergency on May 11.