Submitted by

TFryer

on Mon, 01/22/2018 - 12:54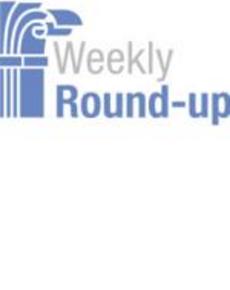 The IBM Center's Weekly Round Up highlights articles and insights that we found interesting for the week ending May 8.
Rewiring the Pentagon: Carter's new cyber strategy. After two months on the job studying the Defense Department's cybersecurity and defense IT needs, Secretary Ashton Carter will on April 23 unveil a new DOD cyber strategy that emphasizes developing the personnel and technologies necessary to stay abreast of an ever-evolving threat. Government's Mobile Sites, Apps Rated More Highly Than Many Companies'. More and more, Americans are turning to their smartphones to check their bank balance, look up a restaurant listing -- or even access a government service. And it turns out, the federal government is actually outpacing several key private industries when it comes public satisfaction with their mobile websites and applications, according to a new survey. FY 2017 Budget Guidance: The Usual 5 Percent Cut. Federal agencies will seek 5 percent in discretionary spending cuts in their fiscal 2017 budget proposals compared to the planned funding levels spelled out in their fiscal 2016 requests, under an order from the Obama administration.The cuts should be aimed at ongoing efforts to reduce "fragmentation, overlap and duplication," Office of Management and Budget Director Shaun Donovan wrote in a memorandum to agency heads May 1. Michael J. Keegan DeSalvo Nominated To Officially Serve as HHS Assistant Secretary. President Obama nominated National Coordinator for Health IT Karen DeSalvo to serve as HHS assistant secretary. If the nomination is confirmed by the Senate, DeSalvo would step down from her role at the Office of the National Coordinator for Health IT. Health Data Management et al. HHS to modernize health data with portal update. The Department of Health and Human Services is turning to its IdeaLab to make its health data on HealthData.gov portal "more liquid," to improve its usability and capability. Record-setting FOIA backlog outside of agencies' control. Federal agencies are getting better at processing Freedom of Information Act requests. The record-setting backlog is just an anomaly out of their control, the Justice Department says VA nominee vows transformation of veterans heath care. Dr. David Shulkin, the nominee to lead the Veterans Health Administration told Senate lawmakers Tuesday that he intends to "transform" the country's largest health care organization. Navy rolls out new five-year cyber strategy. A new plan is charting the Navy's strategic objectives in cybersecurity over the next five years, with 18-month measures of progress along the way. Navy leaders view the benchmarks as important because they will provide measurable markers of whether their evolving cyber capabilities are actually delivering progress in defending service networks from adversaries. A bill to help Homeland Security with its social media strategy is moving forward in the Senate. The measure directs DHS to create a social media working group. That group would advise the department on using social media in disaster response, terrorist attacks or other emergencies. The group would also help DHS share information through social media with the public and state and local governments. (HSGAC/GovTrack) The FAA is partnering with a railroad, a drone manufacturer and a news organization to speed along policy for use of unmanned aircraft in U.S. skies. The furthest along is CNN, which has established a Cooperative Research and Development Agreement, or CRDA, with the FAA. BNSF Railroad and drone-maker Precision-Hawk are still developing their CRDAs. Precision-Hawk plans to research how drones can improve precision agriculture. (FAA) John Kamensky Fast Track Hiring for Digital Services. Agencies building digital services squads can now skirt some of the typical federal requirements in hiring technologists for those teams. The Office of Personnel Management has authorized the use of excepted-service appointments for the hiring of digital services staff in support of the President's Management Agenda's Smarter IT Delivery Initiative. The special authority allows the hiring of GS-11 through GS-15 level employees to temporarily fill technical positions for a year, with the option to extend them in one year increments. SES: Some Respect Helps. Just in time for Public Service Recognition Week, a new government report suggests that a little more recognition could go a long way toward preventing top-level federal employees from leaving public service. Seventy percent of federal senior executives who left their positions said in response to an exit survey that no effort had been made to encourage them to stay. 18F Innovation Services – Like Disney? See the story on how tough it was for Disney to change: The government is widely known as being resistant to change and leery of innovation, but that may be one of those truisms that is no longer true — or at least, not true as often. Chris Cairns, director of the General Services Administration's 18F Consulting, which creates user-centric digital services for agencies, said that the organization has had little trouble finding agencies ready and willing to welcome its help."I am just totally blown away at how easy it's been" to find clients, Cairns said. "18F has just become this whole phenomenon." GSA launched 18F in December 2013. Are IGs Terrorizing Agencies? The number of successful investigations by inspectors general has more than doubled in 20 years. Does that mean IGs are doing a better job weeding out waste, fraud and abuse in government, or are they creating mountains out of molehills? Kymm McCabe, founder of ValueStorm Growth Partners, said the increased oversight is creating a "fearful paralysis" in the acquisition community. "We've become so focused on using oversight to try to solve every problem, that folks are now just afraid," McCabe said on In Depth with Francis Rose . "It's really caused a freeze on communication." The Business of Government Radio Show: Conversations with Leaders. What are the key priorities for CMS's Center for Program Integrity? How is it moving beyond the "pay and chase" approach to combating fraud, waste, and abuse? What innovative technologies is it using? Join host Michael J. Keegan as he explores these questions and more with Dr. Shantanu Agrawal, Deputy Administrator & Director, Center for Program Integrity, Centers for Medicare and Medicaid Services. Broadcast Schedule: The show airs Monday at 11 a.m., and Wednesday at noon, on Federal News Radio 1500AM WFED. If you can't wait, though, you can listen to (or download) this week's program and all our previous interviews at businessofgovernment.org.