Submitted by

rgordon

on Mon, 12/05/2022 - 12:31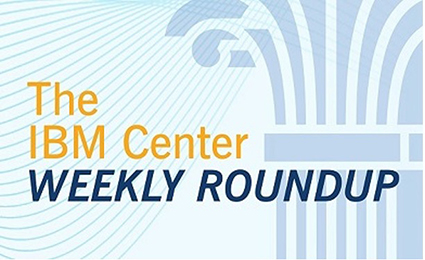 Articles & insights in public management & leadership that we have found of interest for the week ending December 2, 2022.
Year two of the PMA; Cyber advice for Pentagon leaders; A plan for zero-emission vehicles by 2027. NEW: Academy President & CEO Terry Gerton talks with @FRoseDC on @DailyScoopPod about the progress #government has made implementing the President's Management Agenda, and what comes next. Tune in! #PMA #management
White House considering pilot program to improve public interaction with federal data. U.S. Chief Data Scientist Denice Ross said the pilot program would create a feedback loop between the public and federal agencies to make data sets more accessible and utilized. The White House wants to make it easier to access and utilize federal data sets with a new pilot program aimed at improving engagement between government agencies and key stakeholders, the nation's chief data scientist said on Tuesday.
White House says an anticipated executive order on identity theft is coming, here's what experts want in it. The administration said the forthcoming order, led by American Rescue Plan coordinator Gene Sperling, would have "broad government-wide directives… to prevent and detect identity theft involving public benefits" with a focus on privacy, equity and civil liberty protections, as well as provide help for identity fraud victims. Stakeholders say the need for action is urgent, pointing to the promise of the White House's agenda and its policy-setting ability to address government policy barriers that often hinder identity proofing.
What do industry and cybersecurity experts want in the upcoming national cyber strategy? The White House has been working with a range of industry stakeholders and cybersecurity experts on a forthcoming plan that could transform America's cyber landscape. Here's what they hope makes it into the new strategy.
DOD wants cyber apprenticeships for contractors, but acquisition regs may remain an obstacle. DOD officials say contractors should increase the use of registered cyber apprenticeships, but some companies argue that federal contract requirements often lock them into education and experience prerequisites.
Strategic Planning in Small Communities: A Manager's Manual. Strategic plans are valuable tools when making complex decisions and navigating challenging periods. Read Local Government Research Fellow, Stephanie Davis, Ph.D., practitioner-oriented guide to making strategic planning work in your community.
PSC is celebrating 50 years of excellent work for the government and its service contractors. Celebrate with us with this series of vintage photos and learn more about PSC's continued advocacy at http://pscouncil.org #PSC50Years. Congratulations @PSCSpeaks for 50 years of outstanding representation of the Government and GovCon community! Kudos to the staff and leaders through time, including current leader David Berteau and alum leader @stansoloway.
20th Anniversary of the E-Government Act - SSLC Melissa Wojciak Interview. #ICYMI last week @SSLC_Now posted a conversation between @johmarsh and @MelissaWojciak, Former Staff Director, House Committee on Government Reform and Oversight (2001 - 2006) on the E-Government Act. Check it out!
Leadership Expert Michael Maccoby Dies at 89. The IBM Center mourns the death of Michael Maccoby, a global authority on leadership & the workplace. I had the pleasure of having Dr. Maccoby on The Business of Government Hour https://bit.ly/3B6Ep18.
Powerful strategies to attain the success you seek. Success in leadership is more likely when you surround yourself with colleagues and friends who inspire you, remove temptations to slack off from your goals and stop making excuses when you mess up, writes author and business coach Bill Murphy. "It's natural to try and pull the wool over your own eyes and coddle yourself so you feel better, but that will only hold you back," Murphy writes. SmartBrief/Leadership
Why one size does not fit all in leadership. Leaders must be vulnerable and open with others and adjust their style to fit the needs of each team member to foster a sense of trust and security, says Will Guidara, author and former co-owner of hospitality group Make it Nice. "As a leader, it means that you need to manage people not as just another number on your team but as individuals -- getting to know them and tailoring your approach to how you lead them in a specific way that will be most effective, most investing, and most loving to them," Guidara says. McKinsey
Transform stress so it becomes a tool for success. Stress can cause many physical and mental challenges, but by reframing stressful situations and remembering how you have risen to challenges in the past, you can turn stress into a positive tool for success, says Columbia University professor Modupe Akinola. "Once we are able to welcome stress and embrace it, we can thrive and inspire others," Akinola says. Stern Strategy Group
6 key elements of a good strategic plan. To create an effective strategic plan, do your homework, clearly define a goal, seek quick consensus on direction and condense the strategy to a brief document that is referred to every time new decisions are needed, writes John Spence. "All strategy is the allocation of limited resources into the areas that create the most leverage for the organization," Spence writes. John Spence