Submitted by

MKeegan

on Fri, 11/10/2023 - 13:37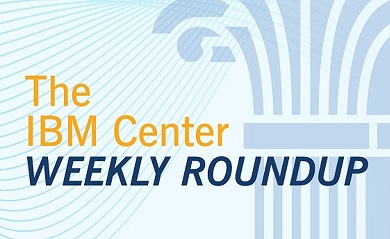 Friday, November 10, 2023
Articles & insights in public management & leadership that we found of interest for the week ending November 10, 2023
GAO Presses OMB to Improve USAspending.gov Data. The Government Accountability Office (GAO) is calling on the Office of Management and Budget (OMB), in coordination with the Treasury Department, to provide guidance to agencies on how to report their spending data on USAspending.gov. The website USAspending.gov, is the official source of Federal spending information to help both the government and the public track Federal funds. However, in a new report, GAO found that 49 agencies did not report data to USAspending.gov in fiscal year (FY) 2022 – 25 of which "accounted for more than $5 billion in net outlays."
GAO Building GenAI Tools to Face Internal Challenges. The Government Accountability Office's (GAO) Innovation Lab is building its own generative AI models to help solve some of the problems GAO's mission teams face, according to the agency's first chief data scientist and director of the Innovation Lab. Taka Ariga highlighted four AI projects GAO is spearheading that will help to further the agency's mission. The first project he highlighted was Project Holodeck, which is leveraging extended reality to enhance GAO employees' ability to collect evidence.
Q&A: NGA AI Chief Says Agency Moving Fast, Responsibly. As a national security intelligence agency, the National Geospatial-Intelligence Agency (NGA) is well known for delivering geospatial intelligence (GEOINT) analysis that provides a decisive advantage to policymakers, warfighters, and other intelligence professionals in the service of national security. Artificial intelligence (AI) technologies are an increasingly critical tool in that mission. With a mission of "Know the World, Show the Way…from Seabed to Space," NGA is moving fast and responsibly on the adoption of powerful AI capabilities – primarily computer vision capabilities – to better identify objects of national security interest at speed, says Mark Munsell, director of NGA's Data and Digital Innovation Directorate. 
Defense Innovation Unit Seeks Cyber Threat Hunting Tools. The Defense Innovation Unit (DIU) – which operates within the Defense Department (DoD) to accelerate the military's adoption of leading commercial technologies – is seeking industry help to develop tools that DoD can use to hunt for cyber threats on Pentagon networks. The solicitation for the Advanced Rapid Analysis of Cyber Hunt Network Infrastructure Data (ARACHNID) program seeks to develop cyber threat hunting tools that can help DoD locate potential threats on DoD and partner-owned networks. Responses to the solicitation are due by Nov. 17. "Preferred solutions will allow for the ingestion of Layer 2 and Layer 3 network device configuration files, PCAP files, and flow logs versus taking an active scanning approach," DIU said in the solicitation.
DHS CX Lead Talks Progress Across 1 Billion Public 'Touch Points'. The head of the Department of Homeland Security's (DHS) new customer experience (CX) office offered insights on Tuesday into the agency's upcoming CX goals as DHS looks to improve experience across an estimated one billion "touch points" with the public every year. During a Federal News Network webinar on Nov. 7, Dana Chisnell highlighted some of the projects the less than two-month-old office has begun spearheading, including standing up CX offices in each of DHS's component agencies.
DHS Launches new Office of Homeland Security Statistics. The Department of Homeland Security (DHS) unveiled its new Office of Homeland Security Statistics (OHSS), which aims to advance DHS's statistical reporting and analysis capabilities. The new office it plans to begin releasing its initial sets of data in the coming weeks and throughout fiscal year 2024, including a report on Federal cybersecurity incidents. "The new office's scope has broadened from an exclusive focus on immigration data to begin covering all DHS mission domains," the agency's press release notes. "With annual, semi-annual, and monthly reports, OHSS' work in Fiscal Year (FY) 2024 will include data releases on law enforcement, international trade, cybersecurity, airport screening, emergency response to federal disasters, and maritime response operation. 
FAA Tech Sprints Addressing Runway Safety Priorities. The Federal Aviation Administration (FAA) is undertaking a three-part technology "sprint" that aims to quickly deploy three tech upgrades aimed at increasing runway safety, according to a senior FAA official who testified before Congress this week. Tim Arel, chief operating officer at the FAA's Air Traffic Organization (ATO), discussed those technological initiatives during a Senate Commerce, Science, and Transportation subcommittee on Aviation Safety, Operations and Innovation hearing. 
New data strategy, OMB Circular to set foundation for OFPP's Better Contracting Initiative. The Biden administration is resurrecting an enterprise software licensing initiative with more complete data and 20-years of understanding of it takes to be successful as part of its new Better Contracting Initiative. Christine Harada, the senior advisor in the Office of Federal Procurement Policy, said this four-pronged effort aims to give agencies better data and better tools to extract more value from acquisitions.
Unlocking The Power of Data: Interview with Amy Edwards Holmes, Executive Director, Bloomberg Center for Government Excellence. In the most recent GovEx DataPoints podcast Amy Edwards Holmes gives a rundown of the data management and performance strategy that she led during her first year at the helm. Here are highlights of her observations and a look at upcoming plans for GovEx work in the coming year.  
OMB Releases NEW Circular No. A-4.  Circular No. A-4 outlines the Office of Management and Budget's (OMB's) guidance to federal agencies on the development of regulatory analysis and on the regulatory accounting statements that are required under the Regulatory Right-to-Know Act.
THIS WEEK @ THE CENTER
NEW BLOG - Sustained Performance Improvement in Government – On the Importance of Good Governance.  Richard Spires explores why so many agencies struggle to deliver their "core" services effectively and efficiently. Richard explains that wanting government to improve is what prompted him to research and then write his second book, Government Can Deliver – A Practitioner's Guide to Improving Agency Effectiveness and Efficiency. To learn more about the book and the insights above, you can listen to my interview on The Business of Government Hour. 
ICYMI - Leading FEMA's Mission Support Operations: A Conversation with Eric Leckey, Associate Administrator for Mission Support – FEMA.  This past week Michael Keegan welcomed Eric Leckey, Associate Administrator for Mission Support at FEMA for a timely and insight conversation on leading mission support operations at FEMA, how it helps the agency improve its performance, and ways FEMA plans for the next disaster.