Submitted by

rgordon

on Fri, 11/11/2022 - 15:02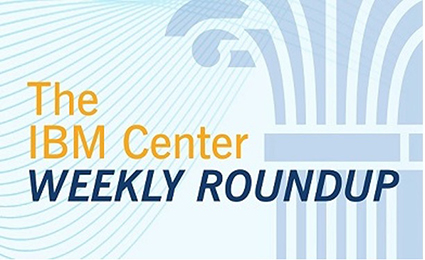 Friday, November 11, 2022
Articles & insights in public management & leadership that we have found of interest for the week ending November 11, 2022.
Enhancing the FITARA scorecard. Opportunities exist to enhance the FITARA scorecard to ensure its continued relevance and to keep pace with technology changes. This year, ACT-IAC created a working group of former federal technology leaders, all now successful industry executives, to evaluate the FITARA Scorecard and identify potential enhancements to ensure its relevancy and to keep pace with technology changes. The work of the group resulted in the recent release of an ACT-IAC report, Recommendations for Evolving the FITARA Scorecard.
GSA beta tests new 'federal front door'. GSA is testing updates to USA.gov in keeping with the administration's customer experience push, but questions linger about how cross-agency collaboration will work in practice. But two big goals remain – offering end-to-end services on the websites themselves and organizing around the circumstances Americans come to the government in, as opposed to bureaucratic government lines. The beta sites, which GSA built from the ground up and launched Sept. 30, are informed by research into how and why Americans use the sites that will only continue.
Here's What OPM Is Doing to Change Its Approach to Federal Personnel Issues. Office of Personnel Management Director Kiran Ahuja said at NAPA's annual meeting that the federal government's HR agency is hard at work finding ways to improve the federal government's personnel systems and shifting toward becoming a modern leader on strategic human capital issues. Ahuja told NAPA that many of the organization's recommendations are incorporated into its five-year strategic plan. She described the NAPA report as a "public validation" of OPM's role in government, and said the agency is committed to the group's vision for the agency.
Strengthening Social and Economic Development Through Meaningful Work: NAPA Fall Meeting Nov. 2-4. Hear from many experts on the #federal, #state & #local gov't #workforce, and the importance of #meaningfulwork. You can register to access sessions on-demand at https://napawash.org/events/2022-academy-fall-meeting #NAPAFallMeeting22 #NAPAFellows
IOT cyber rule covering federal buyers about to take effect. A December deadline looms for agencies to implement cybersecurity requirements for Internet of Things devices. Under a 2020 law, the federal government will leverage its procurement powers to bolster minimum cybersecurity standards for Internet of Things devices. Congress passed the IoT Cybersecurity Improvement Act of 2020. The legislation directed NIST to publish standards and guidelines for agencies on best practices for the use and management of IoT devices. CISA, NSA and industry outline security responsibilities of software suppliers
CISA, NSA and industry outline security responsibilities of software suppliers. New guidance from the federal agencies—and major companies serving the government—tries to distinguish between the security duties of software developers, suppliers and consumers. The executive order stressed agencies' responsibility to scrutinize the software they purchase, and the Office of Management and Budget required procurement officials to collect a form—to be created by CISA—that software vendors can sign in order to self-attest adherence to practices identified in the NIST guidance.
White House Edging Toward 'Systemically Important' Infrastructure Policy. The administration plans to launch a process to review and revise U.S. critical infrastructure protection policy, including providing guidance to agencies on designating certain critical infrastructure (CI) as "systemically important."
Coast Guard Prepping 'Transformative' Cloud Journey. The U.S. Coast Guard is preparing to embark on a major push into cloud services beginning within the next year, said Jonathan White, the Coast Guard's Platforms and Data Branch Chief. He said the Coast Guard is just at the point of embarking on what he expects to be a "transformative" technology journey, and that the starting point is cloud services. "I see the cloud being a clean slate we can paint off of and put our modernization piece on to," he said.
Leaving the comfort zone: Difficult issues in public sector reform No need to wait for a royal commission or advisory panel to take up the "wicked problems" facing the federal public sector. Much of the commentary on the public sector stays at the level of generalities. Exhortations to become more strategic, more inclusive, bolder in advice and better in delivery are impossible to contest. Too often, the discussion stops short of analyzing resistance or tradeoff among objectives. As in so many things, we are much better at diagnosis than agreeing on the remedies.
Division or patriotism: The American public role in defending and sustaining democracy. Perspectives on trust in #government from James-Christian Blockwood.
Biden to nominate Danny Werfel to lead IRS. President Biden on Thursday said he will nominate Danny Werfel to serve as the next commissioner of the Internal Revenue Service (IRS). Werfel led the IRS in 2013 after President Obama selected him as acting commissioner in the wake of a mismanagement crisis. He would replace Charles Rettig, whose term ends Saturday.
How believing for your team can inspire success. When doubt overwhelms team members, it's the leader's job not just to believe in them, but also to believe for them to create an overall sense of motivation and confidence, writes Gary Burnison, CEO of Korn Ferry. "To be a leader, you walk with others -- occasionally in front, sometimes behind, and always by their side," Burnison writes.
Build team trust by creating a culture of belonging. Leaders need to recognize it takes time to build trust with employees, and they should focus on creating a culture of belonging that values people, according to workplace experts. "It's really about how people experience their leadership," says Julian Lute, senior strategic advisor with Great Place to Work.