Submitted by

MKeegan

on Fri, 10/20/2023 - 15:14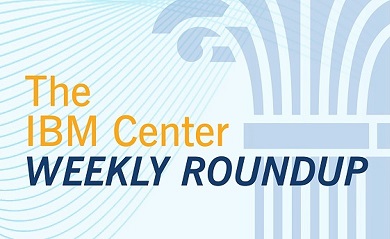 Articles & insights in public management & leadership that we found of interest for the week ending October 20, 2023
Federal Agencies Use Edge Computing for Heightened Agility, Faster Decisions. Federal agencies are increasingly adopting edge computing, citing its transformative power to enable field agents and military personnel to make faster decisions and respond to crisis situations, experts said. The Department of Defense (DoD) is using computing at the edge in areas such as object detection, while homeland security and law enforcement agencies are employing the technology in cybersecurity investigations and natural disaster response. William Streilein, chief technology officer for DoD's Chief Digital and AI Office, said edge computing use is growing among DoD agencies in part because of its ability to help agencies achieve decision advantage.
Federal CISO Says his AI Security Cup is 'Half Empty' Federal Chief Information and Security Officer (CISO) Chris DeRusha said that as the federal government is making real progress on cybersecurity, his "cup is actually half empty" when it comes to the security of AI. However, at the same time, DeRusha said that the United States has to "go full bore in learning how to use this technology" in order to keep up with our adversaries who are doing the same. "I'm in the security field, so the cup is actually half empty if anyone was wondering," DeRusha said today at the Google Public Sector Summit, presented by Scoop News Group. "I think I worry about a lot of [AI]."
Air Force DCIO: Modernizing is 'Biggest Thing' to Improve Cybersecurity. Many Federal agencies are looking to use AI as a key cybersecurity tool, but before agencies get too far ahead of themselves, U.S. Air Force Deputy Chief Information Officer (DCIO) Winston Beauchamp said on Tuesday that the number one thing agencies can do to improve their cybersecurity posture is to modernize their IT architecture. "I continue to say that the single biggest thing we can do to improve our cybersecurity is modernize our architecture, get rid of our tech debt," Beauchamp said.
SSA says understaffing led to overpaying 2M beneficiaries since FY 2022. The Social Security Administration overpaid about 2 million beneficiaries over the past two years and is telling lawmakers that more staffing is needed to reduce improper payments. SSA is dealing with its lowest staffing level in 25 years, but at the same time is providing benefits to a record 71 million Americans. The agency pays out about $1.4 trillion in benefits each year.
The TSA is found to have some serious cybersecurity deficiencies. The Homeland Security Department office of inspector general looked at a high value asset system operated by the Transportation Security Administration. Uh oh. Lots of missing pieces Federal Drive with Tom Temin spoke with the principal deputy inspector general, Glenn Sklar and the acting assistant IG for the office of audits, Craig Adelman
USPS CIO: AI Adoption Key to 'Frictionless Experience'. The adoption of AI technology will play an essential part in delivering a "frictionless experience" to United States Postal Service (USPS) customers, according to a top agency official. Pritha Mehra, chief information officer (CIO) at the USPS, discussed the need for the agency to adopt AI technology as well as chart out how the agency will develop the technology for its own use cases during the Cloud Summit event on Oct. 19, hosted by NextGov/FCW.
Raylene Yung, GSA executive who led TMF windfall in pandemic era, stepping down. Raylene Yung, executive director of the Technology Modernization Fund (TMF) program management office at the General Services Administration, is leaving her position.  Friday is her last day on the job.
2023 Sammies recognize the exceptional work of federal employees. To bring to the forefront the often behind-the-scenes work of career federal employees, the Partnership for Public Service spotlighted the winners of the 2023 Samuel J. Heyman Service to America Medals Tuesday evening.
A new potential way for federal scientists to get some guidance in their careers. The Federal Lab Consortium (FLC) is looking to see if there is interest in a mentorship program for federal technology transfer professionals. It recently wrapped up a survey of FLC members to gauge the viability of such a program.