Submitted by

MKeegan

on Fri, 10/06/2023 - 16:37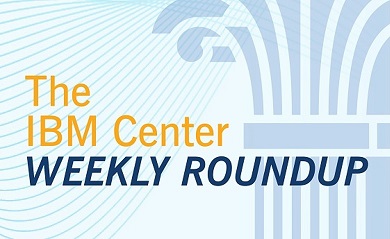 Articles & insights in public management & leadership that we found of interest for the week ending October 6, 2023
 AI Helping Feds Optimize Data Centers, New Research Finds. Federal agencies are working to optimize data centers to achieve better performance, an effort that the U.S. Government Accountability Office (GAO) reports has made "mixed progress." New research shows that artificial intelligence (AI) is coming to help – and in some cases, is already here. 
Feds Leveraging Data to Modernize Government Business Practices. Feds are "growing good in government" this new fiscal year by partnering with industry and academia to build the feedback loops of the future. The Growing Good in Government Initiative (G3I) – spearheaded by the Marketing and Regulatory Programs (MRP) Mission Area at the U.S. Department of Agriculture (USDA) – aims to help Feds improve how they influence the strategic direction and the business practices of government by leveraging data and emerging technology.
NSA getting 'a lot more flexible' under major workforce initiative. Conversations around telework and other flexibilities sound a little different at the National Security Agency. While many companies are bringing people back into the office and the White House is directing agencies to increase "meaningful in-person work," the NSA is considering how to increase telework options that were mostly non-existent at the highly secretive agency before COVID-19.
DHS sees need to be 'aggressive adopters' of AI tools to advance cyber mission. The Department of Homeland Security is looking to become one of the "early and aggressive adopters" of AI tools within the federal government and is taking steps to protect critical infrastructure from AI-powered cyber-attacks. 
Army plans major changes to recruiting after falling short of 2023 goals. Big changes are coming to the Army's recruiting apparatus after several consecutive years of recruiting shortfalls, including an elevation of the stature of the service's recruiting command, a new career field for military recruiters, and new goals that target a wider demographic of young people. The Army finished 2023 with 55,000 new recruits, significantly short of the 65,000 it had aimed for in the fiscal year that ended on Saturday. 
TSA CIO Says the U.S. is in a 'Cyber War' With the rising number of cyberattacks on U.S. infrastructure and the increasing cyber capabilities of foreign adversaries, it has become evident that the United States is in a "cyber war," according to a top Transportation Security Administration (TSA) official.
DHS Issues New IT Plan Prioritizing IT Workforce, AI, CX. The Department of Homeland Security (DHS) released a new IT Strategic Plan for fiscal year 2024 through 2028, which highlights workforce training, technology modernization, and addressing customer experience challenges as priorities. According to DHS, the plan will guide the department through the next few years "by serving as the touchstone for [its] modernization efforts," says DHS Chief Information Officer (CIO) Eric Hysen. 
CISA, NSA Panel Roll Out New Guidance for Identity, Security Management. New guidance from the Cybersecurity and Infrastructure Security Agency (CISA) and the National Security Agency (NSA) highlighted significant ongoing challenges Federal agencies and industry face in implementing security controls like multifactor authentication (MFA) to manage identity security. The report – Developer and Vendor Challenges: Identity and Access Management – was produced by the Enduring Security Framework, a public-private working panel led by CISA and the NSA.