Submitted by

rgordon

on Fri, 10/28/2022 - 16:31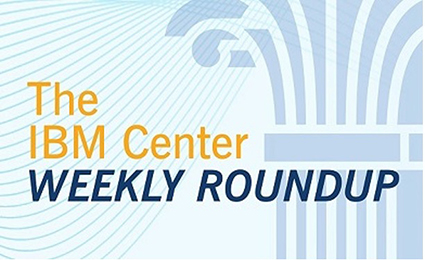 Articles & insights in public management & leadership that we have found of interest for the week ending October 28, 2022.
Collaboration Starts at Home, Extends Globally. Since being established the Cybersecurity and Infrastructure Security Agency (CISA), it has been breaking down barriers of government bureaucracy to quickly get the right information to the right people—enabling them to make well-informed decisions that raise our collective defense. CISA Stakeholder Engagement Strategic Plan 2023-2025 has been released to help CISA broaden and strengthen those partnerships by unifying the agency's approach to stakeholder engagement.
Cyber Central: Panelists Chart Path to Cyber Resiliency. The Federal government is increasingly pushing for cyber resilience in the face of unrelenting attacks as a mission-critical capability. But getting there is no easy task. Military and private sector panelists at MeriTalk's Cyber Central event in Washington, D.C., on Oct. 27 shared their insights on the essential steps for the Federal government to build out cyber resiliency across critical infrastructure. First and foremost, the panelists explained, Federal agencies must understand the ins and outs of their networks. By understanding how their networks behave, agencies can then better detect suspicious activity.
DoE CIO: as Mobility Improves, so Must Security. As Federal agencies and the private sector improve their uses of mobile technology, they must also improve security along with it, according to Ann Dunkin, chief information officer (CIO) at the Department of Energy (DoE). Dunkin explained that the COVID-19 pandemic rapidly accelerated organizations' mobility. The Federal government now offers hybrid and remote work options, which she said "requires us to leverage mobile technology more than ever." However, with improved mobility, Dunkin said organizations need to put in the effort to maintain the security of their mobile applications and mobile devices.
Kiran Ahuja: OPM working to address 'true angst' over federal IT hiring. The Office of Personnel Management is working to address the "true angst" expressed by federal government IT staff over differences in pay across agencies, Kiran Ahuja has said. Speaking Monday at ACT-IAC's Imagine Nation ELC, the Office of Personnel Management (OPM) director said her agency had listened to feedback from government IT specialists and outlined new measures OPM is taking in response.
Imagine Nation ELC 2022: Federal IT Officials Strive to Improve Delivery of Services. The federal CIO, the U.S. Digital Service and the General Services Administration describe how they work together to implement solutions. The federal CIO, the U.S. Digital Service and the General Services Administration form "three legs of a stool" that support the new federal IT operating plan, said U.S. federal government CIO Clare Martorana. Addressing a panel of the 2022 Imagine Nation ELC conference Monday in Hershey, Pa., Martorana recounted how the Biden administration developed the inaugural federal IT operating plan at the direction of Congress. The federal CIO office develops policy to drive "sustained change across government," Martorana said.
Air Force Moving to Improve User Tech Experience. The United States Air Force is moving to shore up its end-user technology support functions following emergence of a "fix our computers" campaign that went viral earlier this year on Twitter and asserted that the Defense Department (DoD) was losing hundreds of thousands of employee hours annually due to computers that don't work right. Since then, the Air Force has focused on improvements to the end-user technology experience, said Colt Whittall, the Air Force's chief experience officer.
GAO Leveraging AI to Address Workforce Burnout. The Government Accountability Office (GAO) is using its Innovation Lab to leverage artificial intelligence (AI) and machine learning (ML) technologies to identify and alleviate burnout in the Federal workforce ranks due to the coronavirus pandemic, a GAO official said during an Oct. 5 event organized by Federal News Network. Tim Persons, Chief Scientist and Managing Director of GAO's Science, Technology Assessment, and Analytics team, said his team is acting as the "doers, analyzers, and foresighters" for AI in the Federal government and Congress.
Transportation releases Promising Practices for Meaningful Public Involvement in Transportation Decision-Making. The U.S. Department of Transportation (DOT) developed Promising Practices for Meaningful Public Involvement in Transportation Decision-Making to help funding recipients meaningfully involve the public in various stages of transportation decision-making and build their organizational capacity to do so. Public involvement from the beginning and throughout a project's lifecycle has the potential to help projects come to life faster and to better meet the needs of the community.
A dynamic, open-source reference library for practitioners who are working through complexity to improve access to public benefits and services. The Digital Benefits Hub is now open! Created w/ @BeeckDB, the Hub is a new website for practitioners working through complexity to improve access to public benefits & services through data, design & tech. Explore resources, case studies & tools.
Use this 2-step approach to create an engaging culture. Leaders should follow a two-pronged approach as the way work gets done changes to ensure their policies, processes and practices are creating a culture of inclusion, loyalty and engagement, writes Anne Chow, the lead director on FranklinCovey's board of directors. "In a world where talent is key and competition is fierce, culture is the only sustainable competitive advantage organizations have," Chow writes. Chief Executive
What to do instead of worrying. Worrying and coming up with worst-case scenarios can drain energy away from your leadership, writes Scott Cochrane. Replace worry with a sense of concern that leads to action and prepare for what can go wrong while still remaining optimistic, Cochrane writes. Scott Cochrane
Tap the future and the past to make better decisions now. Leaders can develop a "Longpath" mindset by projecting their goals into the future and then working backward to figure out the path to take, all the while keeping in mind how they overcame challenges in the past, says futurist Ari Wallach. "You have to recognize that the things that got you to this moment as an organization or as a leader aren't necessarily going to be the things that get you to the future that you want," Wallach says. McKinsey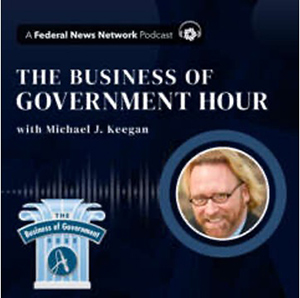 Next Week on The Business of Government Hour: Insights on Leadership: A Conversation with Jacqueline Carter. What does it mean to be a wise and compassionate leader? How can leaders transform how they lead? What tools and methods can help leaders be more effective? Join Host Michael Keegan as he explores these questions and more with Jacqueline Carter, co-author of Compassionate Leadership: How to Do Hard Things in Human Ways.
Broadcast Schedule: The show airs Monday at 11 a.m., and Friday at 1 p.m. on Federal News Network 1500AM WFED