Submitted by

MKeegan

on Fri, 10/29/2021 - 13:08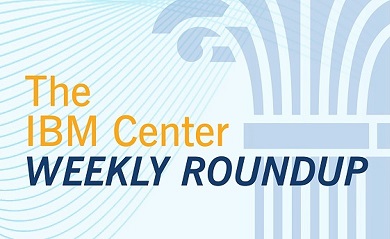 Highlighting articles and insights that we have found interesting for the week ending October 29, 2021
Federal Data Strategy 2021 Action Plan Features 'Aspirational' Milestones. The Office of Management and Budget has released a 2021 action plan for Federal agencies to make progress on a list of goals under the Federal Data Strategy published in 2019, but given there are little more than two months to go in 2021, OMB characterized the year-end goals as "aspirational."  OMB reminded that the Federal Data Strategy "plans for agencies' use of data for a variety of critical purposes: to generate evidence-based policy, to deliver on mission, to serve the public, and to steward resources," while also emphasizing "the vital need to protect security, privacy, and confidentiality."
New cyber bureau set up at State.  The State Department is launching a new bureau for cyberspace and digital policy to be led by an official with the rank of ambassador, Secretary of State Anthony Blinken announced Wednesday in a speech at the Foreign Service Institute. Blinken also announced a new special envoy for critical and emerging technology. Both officials will report up to Deputy Secretary of State Wendy Sherman.
Federal cyber leaders assess TMF awards. Top federal cyber leaders convened this week to review a series of awards recently announced through the Technology Modernization Fund (TMF) as part of an initiative to promote cross-agency projects supporting cybersecurity and IT modernization efforts. National Cyber Director Chris Inglis said he co-chaired the meeting on Wednesday to take "a hard look" at ongoing projects supported by the fund after the TMF Board announced $311 million in new awards in late September, focusing on zero trust cybersecurity projects and cross-government technology programs.
What Is Evidence? Basics of Evidence Brief #1. This this brief from the Urban Institute outlines different types and sources of evidence, explores the purposes and potential uses of evidence, and discusses what makes good evidence in federal policy and practice. By understanding the many types, uses, and qualities of good evidence, federal policymakers and program managers can improve their policies and programs and—ultimately—social, economic, environmental, and other outcomes.
From the Lectern Steve Kelman introduces us to a "Young civic tech star".  The Boston Globe ran an entire article on 2020 Harvard grad Chris Kuang, head of the newly established U.S. Digital Corps, which plans to recruit technologists for two-year stints in the government. The newly create Digital Corps is aimed at new grads and early career professionals. The projects the Digital Corps will work on have yet to be defined. If this works, Kuang hopes to expand the number of participants to hundreds each year. "The mission and the scope of the work that's found in the public sector is really second to none," he said.
IRS tech, CISA funding in Build Back Better.  An effort to put $3.5 billion into key governmentwide tech modernization accounts appear to have come up short in the Build Back Better bill, but there's still a lot of technology spending on the table.
DOD looks to civilian workforce to close technology gaps. The Defense Department has been increasingly looking to recruit civilians to fill its tech talent needs, but some lawmakers are concerned that the mission of uniformed troops could suffer.
The Quiet and Quintessential Public Servant: Dwight Ink, 1922-2021. Dwight Ink, a  consummate public servant, has died at the age of 99. Ink's illustrious career in government service spanned more than four decades. He held positions in every presidential administration from Eisenhower to Reagan. Known as "Mr. Implementation," Ink helped establish the Environmental Protection Agency and the Housing and Urban Development Department. He helped design and implement the landmark 1978 Civil Service Reform Act during the Carter administration.
A farewell to Financial Reporting Great: Hal Steinberg. Harold "Hal" Steinberg, one of the most influential people in the world of government financial management and performance died on October 25th at 86. He also served for a decade on the Federal Accounting Standards Board and was instrumental in forming the Certified Government Financial Manager and Certificate of Excellence for Accountability Reporting programs at the Association of Government Accountants.
Lack of motivation isn't why you're procrastinating. Procrastination is commonly attributed to poor time management, but what's often more important is proper motivation and meaning, writes Susan Fowler. "At the beginning of each day, focus on making choices that connect to meaningful values and build your competence for facing everyday challenges," Fowler writes. SmartBrief/Leadership
5 strategies to build operational resilience. Companies with operational resilience have treated the issue as a leadership priority that trickles down to every level of the business, according to this McKinsey analysis. This approach is especially important for industrial companies, as McKinsey shares examples from manufacturers related to outsourcing production, what assets to prioritize and managing risk in supply chains. McKinsey
Pay attention to the 3 C's of decision-making. Strategic decision-making is becoming more complex and "must be connected, contextual and continuous," with more attention paid to the most important decisions that affect the whole enterprise, writes Mike Rollings. "Human decision makers certainly shouldn't be replaced everywhere; rather, they should be complemented by the power of data, analytics and [artificial intelligence]," Rollings writes. Gartner
Next Week on The Business of Government Hour: A Conversation with Sanjay Gupta, Chief Technology Officer, U.S. Small Business Administration. What is the technology strategy for the U.S. Small Business Administration (SBA)? How is it using technology and innovation to change the way it does business? How has SBA adjusted its operations to meet the demands of its pandemic recovery mission? Join host Michael J. Keegan as he explores these questions and more with Sanjay Gupta, Chief Technology Officer, U.S. Small Business Administration.
Broadcast Schedule: The show airs Monday at 11 a.m., and Friday at 1 p.m. on Federal News Network 1500AM WFED