Submitted by

MKeegan

on Fri, 11/03/2023 - 13:51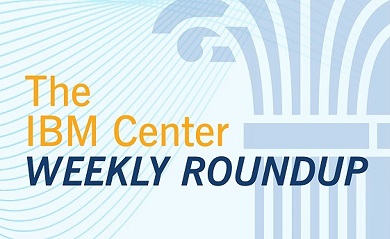 Articles & insights in public management & leadership that we found of interest for the week ending November 3, 2023
OMB Guidance Mandates Agency Chief AI Officers, Safeguards. The Office of Management and Budget (OMB) released its new draft policy on Advancing Governance, Innovation, and Risk Management for Agency Use of Artificial Intelligence, with highpoints of the guidance including orders to appoint a Chief AI Officer at Federal agencies, and to adopt a lengthy list of safeguards for agencies to follow while developing applications of AI tech.
DoD's new AI strategy focuses on adoption. Going forward, the Pentagon will focus on agile artificial intelligence adoption throughout the department to keep up with the ever-evolving technology. Deputy Secretary of Defense Kathleen Hicks unveiled DoD's new AI strategy at a press event. "Today, we're releasing a new data, analytics and AI adoption strategy, which not only builds on DoD's prior year AI and data strategies, but also includes updates to account for recent industry advances in federated environments, decentralized data management, generative AI and more," Hicks said.
VA Launches Artificial Intelligence Tech Sprint. The Department of Veterans Affairs (VA) launched an Artificial Intelligence Tech Sprint on Tuesday, encouraging technologists across the country to develop AI-enabled tools that will reduce the burnout of healthcare workers.
Coker Breezes Through NCD Nomination Hearing, Keys on Workforce Focus. Harry Coker – the administration's pick to serve as the nation's second-ever permanent National Cyber Director (NCD) – sailed through his first Senate nomination hearing today with little to no opposition from lawmakers. Coker pledged that the workforce would be his top priority if confirmed to the chief cyber position. 
Local Officials Call for Fed Cybersecurity Funding to Secure Elections. With the 2024 presidential election quickly approaching, local election officials on Wednesday called on Congress for increased cybersecurity funding to update outdated IT infrastructure and help protect democracy.
DHS CFO nominee 'laser focused' on financial systems modernization.  The Department of Homeland Security's financial management has been on the Government Accountability Office's High Risk List since DHS was created in 2003. Jeff Rezmovic, the nominee to serve as DHS' chief financial officer, wants to change that. He will manage the sprawling financials of DHS withan annual budget of more than $100 billion, including $60 billion in discretionary funding. "We've got to get off the GAO High Risk List," Rezmovic said during a Senate Homeland Security and Governmental Affairs Committee hearing. 
From payment accuracy to program integrity. Doug Criscitello argues that the staggering level of pandemic fraud coupled with mounting concerns about the size and trajectory of the nation's debt load should elevate program integrity as a top management focus. He points out that program integrity needs to be considered in a context well beyond payment fidelity, where structural and operational program features maximize prospects for mission accomplishment. The simple truth is that we cannot afford to do otherwise. 
O'Malley vows to listen to frontline Social Security workers. The administration's pick to lead the embattled Social Security Administration said many of the agency's challenges can be alleviated by a change in culture. In recent years, the Social Security Administration has struggled to meet an array of challenges, from long hold times at its call centers, lines at field offices around the country and the months-long disability determination process, not to mention outrage over efforts to recoup costs associated with improper payments from beneficiaries. 
 NEW FEATURE: This Week @ the Center … 
 New IBM Center Report: Preparing Governments for Future Shocks:  Building Climate Resilience, by Chris Mihm (in collaboration with the IBM Institute for Business Value and the National Academy of Public Administration (NAPA)) was released as part of a panel discussion on "Future Shocks" at the NAPA 2023 Fall Meeting. This latest report in our "future shocks" series, addresses how governments can strengthen their capacity to support sustainability across government programs.  The insights shared by experts who attended the roundtable point to six areas for action, by government leaders and stakeholders, each with specific steps, summarized at https://bit.ly/3SsdLJQ. 
2023 Elmer B. Staats Lecture at the NAPA Fall Meeting:  Dr. Louis Uccellini, former director, National Weather Service presented the 2023 Elmer B. Staats Lecture at the NAPA Fall Meeting and was interviewed by Michael Keegan, Leadership Fellow and host of The Business of Government Hour. They discussed Uccellini's leadership at the National Weather Service (NWS), his efforts to recast its mission, restructure how NWS operates to save lives, and how building a "weather ready nation" can prepare us for attaining a "climate resilient nation". Interested in learning more about Louis' work and related topics check out this video: https://bit.ly/45X2TXi. 
NAPA Fall Meeting Plenary Panel - Anticipating Future Shocks: Insights on Building a Resilient Government. Center Executive Director Dan Chenok moderated a panel at the NAPA Fall Meeting on anticipating future shocks with panelist offering insights on how to build resilient government that can better response to the constancy of uncertainty. To find out more follow the Center at https://twitter.com/BusOfGovernment.
ICYMI - A Conversation with Scott Edinger, author, The Growth Leader. This week Michael Keegan welcomed thought leader, Scott K. Edinger to discuss insights from his new book and get his advice on how government leaders can enhance the customer experience (CX) in the agencies they lead, what government leaders can learn from the private sector on how to improve CX, and the difference between managing tasks versus leading for results.  
AI and Government Communications. Government communications with citizens, with other government entities, with the private sector are key to its effective operations. Now, quite recently, such communications are being dramatically reshaped by AI.  Jerry Mechling looks briefly at how things have evolved and how we could better manage the risks and returns of moving from big picture new ideas to the realities and negotiations of new actions. The results could be wonderful, but we clearly need to protect against some very dangerous and growing problems.