Submitted by

MKeegan

on Fri, 10/13/2023 - 12:30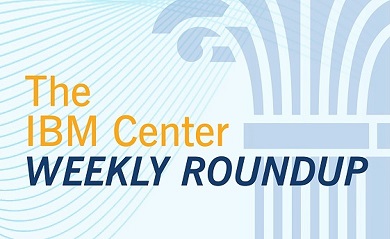 Articles & insights in public management & leadership that we found of interest for the week ending October 13, 2023
Army CIO Garciga kicks off tenure by simplifying cloud, software development. In his first three months on the job, Leo Garciga, the Army's new chief information officer, has focused three big priorities. He said the move to the cloud, the continued evolution of DevSecOps and data will drive a lot of what he does over his first year on the job. Garciga said he's already institutionalizing and simplifying the use of cloud and the move to DevSecOps methodology through new policies.
CISA's Wales: US Needs Better Cyber Resilience Facing China. The Executive Director of the Cybersecurity and Infrastructure Security Agency (CISA) said that the threat posed by China within the cyber realm is evolving and much more serious today than it was a decade ago ­– particularly when it comes to potentially targeting the United States' critical infrastructure. According to CISA's Brandon Wales, the U.S. must work to ensure a degree of cyber resilience against any looming attacks on the nation's critical infrastructure.
New rule sets stage for banning risky technologies from government supply chains. Federal contractors will need to closely monitor a government acquisition website for directives that ban products and services due to security concerns, like the Huawei ban, under a new rule published this month and set to go into effect in early December. The Defense Department, the General Services Administration and NASA published an interim rule last week laying out how contractors will need to comply with orders from the Federal Acquisition Security Council. 
FDA Creates new Digital Health Advisory Committee. The Food and Drug Administration (FDA) announced today the formation of a new committee which aims to advise the head of the agency on digital health technologies (DHTs). According to an Oct. 12 notice published in the Federal Register, the new Digital Health Advisory Committee will consider the regulation and use of AI and ML, virtual reality, remote patient monitoring, and other emerging technologies within the health ecosystem.
DHS Looking to Use Robotics in Airport Security Lines. The Department of Homeland Security's (DHS) Science and Technology Directorate (S&T) is looking to use robotics in airport security screening lines to streamline efficiency and speed up inspections for travelers.
NSF Invests $19.6M in Emerging Research Institutions. The National Science Foundation (NSF) recently announced the first-ever Enabling Partnerships to Increase Innovation Capacity (EPIIC) investment of $19.6 million to nearly 50 teams at U.S. institutions of higher education.
GAO: Federal Financial Agencies Need to Improve Fintech Skills. As banks and credit unions are increasingly using financial technology or "fintech" for financial services, the government watchdog is urging Federal financial agencies to do more to improve their workforce's technology skills.
State CIOs Worry About COVID-19 Funding Drying Up. After receiving unprecedented levels of Federal funding during the COVID-19 pandemic, state chief information officers (CIOs) are growing concerned about what will happen to their operations when that funding starts to run out. In its latest State CIO survey, the National Association of State Chief Information Officers (NASCIO) zeroed in on state CIOs pain points heading into 2024. High on the list of concerns was the uncertainty of Federal funding in the years ahead.
GSA official who reshaped federal office space in pandemic era leaving government. Nina Albert, the commissioner of the General Services Administration's Public Buildings Service, is leaving the agency and federal service on Friday. Albert led PBS as the Biden administration faced bipartisan calls from Congress to make better use of federal office space, and get rid of buildings that agencies no longer need.