Submitted by

MKeegan

on Fri, 09/17/2021 - 13:41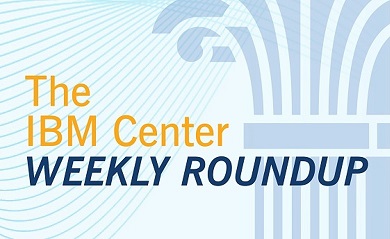 Friday, September 17, 2021
Highlighting articles and insights that we have found interesting for the week ending September 17, 2021
OMB Expands Customer Experience Guidance for Federal Agencies. In its annual update to Circular A-11, the Office of Management and Budget (OMB) made significant changes to section 280, which focuses on customer experience (CX) and service delivery. The new changes provide a new expanded definition for customer experience – one that includes equity and designates CX as a priority instead of a nice-to-have. "A customer's experience interacting with the Federal government directly contributes to their trust in government itself," the guidance says. "As a federal government, it is our responsibility to ensure that every interaction a member of the public has with their government demonstrates competence and builds trust.
White House nominates John Sherman for DOD CIO. John Sherman, the Defense Department's acting CIO, to hold the top tech job on a permanent basis. Sherman was named DOD's principal deputy CIO in 2020 and has been acting in the CIO role since January. Under his leadership at DOD, Sherman has overseen major enterprise initiatives from the coronavirus pandemic-spurred commercial virtual remote telework capability to the cancellation and pivot of the embattled Joint Enterprise Defense Infrastructure cloud contract.
Inglis: First rule of cyber education is budget accountability. Cyber budget accountability -- knowing not just what was spent, but how -- is key to workforce education on cyber, according to the national cyber director. Chris Inglis said part of his office's responsibility is accounting for "cyber dollars: the purpose for which they're spent, to track those, to see whether the execution matched the aspiration." But that also extends to making sure what is spent on cyber is appropriate, he said. 
Closer Partnerships are Key to Cyber Fight. Closer working partnerships between Federal cybersecurity authorities and the private sector hold the key to improving the U.S.'s ability to fend off and recover from the increasing wave of cyberattacks against U.S. targets including those from nation-states like Russia and China. That was the main takeaway from a discussion of the current cybersecurity picture by Rep. John Katko (R-N.Y.), the ranking Republican leader of the House Committee on Homeland Security. The congressman talked about the extent to which the current level of interaction between federal cybersecurity agencies and the private sector help to stem attacks – but also the long way left to go in improving those interactions including through increased sharing of information about attacks.
DoD Adopted Practices to Manage CR Constraints. The Department of Defense (DoD) has practices in place to minimize the effects of funding that comes from a continuing resolution (CR), the Government Accountability Office (GAO) found, due to the agency starting 11 of the last 12 fiscal years under a CR. DoD officials that GAO talked to said that "continuing resolutions can delay their ability to pay for goods or services and can lead to repetitive administrative tasks or incremental planning." According to the report, the DoD obligates a lower percentage of their total annual obligations in the first quarter of the fiscal year through fiscal years 2017 through 2020 as compared to other quarters.
OPM to Require Funding for Modernization Projects. The Office of Personnel Management (OPM) said in a new report that it is mapping out IT modernization steps necessary to execute on a series of outside recommendations to improve agency functions, and will need additional funding to carry out that work. OPM delivered that assessment in response to a congressionally mandated National Academy of Public Administration (NAPA) report. Overall, OPM said it accepted "much of the substance" of the NAPA study and its recommendations. The NAPA report said that OPM needs to be forward-leaning to meet modern human capital management needs of the Federal government.
NIH Kicking off New IT Strategic Plan. The National Institutes of Health (NIH) has invested "proactively and preemptively" in technology, so that when the coronavirus pandemic hit NIH it was able to seamlessly transition to a telework environment, according to the NIH CIO and Director of the Center for Information Technology, Andrea Norris. After more than a year of lessons learned in the pandemic era, NIH is kicking off a new IT strategic plan this month that will include changes in the workplace, including with telework.
How curiosity can build trust for leaders. Leaders can build trust by being curious about people, asking what kinds of help they need to be more effective, what their goals are and how they want to be rewarded, writes Steve Keating. "You cannot lead people who do not trust you," he writes. LeadToday
Why courage is the key to managing risk. In the wake of the pandemic, boards and company leaders will need the courage to expand their thinking, make mistakes, and choose progress over perfection, write Michelle Daisley and Lucy Nottingham. "You can broaden your awareness of risk, but channel that worry into a disciplined process that can generate upside too," writes Jonathan Brill of Resilient Growth Partners in a separate essay. NACD BoardTalk
Embrace a "beginner's mind" with strategy.  Strategy requires hard work and preparation but also the ability to look at problems anew without defaulting to past solutions, write L.J. Bourgeois III, Serge Eygenson and Kanokrat Namasondhi. "By letting go of the pre-existing views of our organizations, our subordinates, our managers and ourselves, we can better optimize a strategy to achieve success while remaining resilient in the face of obstacles that the strategy will encounter," they write. Darden Ideas to Action (University of Virginia)
* * * *
Next Week on The Business of Government Hour: A Conversation with Andre Mendes, Chief Information Officer, U.S. Department of Commerce. What are the IT priorities of the U.S Department of Commerce? How is Commerce and its bureaus leveraging emerging technologies? What is Commerce doing to modernize and secure its IT infrastructure? Join host Michael J. Keegan as he explores these questions and more with Andre Mendes, Chief Information Officer at the U.S. Department of Commerce.
Broadcast Schedule: The show airs Monday at 11 a.m., and Friday at 1 p.m. on Federal News Network 1500AM WFED