Submitted by

MKeegan

on Fri, 09/20/2019 - 14:14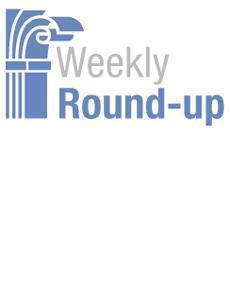 Friday, September 20, 2019
The IBM Center's Weekly Roundup highlights articles and insights that we found interesting for the week ending September 20, 2019.
Michael J. Keegan 
How VA is disrupting tech delivery. In 2017, VA's Digital Service team (DSVA), part of the U.S. Digital Service, piloted Human Centered Design (HCD) and product management classes at VA with informal brown bag sessions. In early 2018, the refined curriculum was rolled out externally to DoD and other agencies through DCode's innovative Executive Technology Entrepreneur Course (DETEC), and later that year it was used in Georgetown's Professional Certificate Programs for broader government and industry feedback.
Air Force announces new information warfare entity. After some delay, the Air Combat Command will combine its 24th (cyber) and 25th (intelligence, surveillance and reconnaissance) Numbered Air Forces into one.
AI faces growing pains in the federal workplace. Auditors want artificial intelligence tools to monitor fraud and abuse, but the new tech is slow to penetrate agencies.
Master Your Motivation. Susan Fowler is a thought leader on discipline and self-leadership. Her latest book is Master Your Motivation. In it, Susan tackles motivation in a fresh way.
5 ways pressure leads to poor leadership. he pressure of leadership can show up in several ways, such as refusing to admit mistakes, take feedback or move on from an unworkable situation, writes Jane Perdue. "Pressure can prompt us to turn a strength -- like being knowledgeable, persevering or quickly solving problems -- into a weakness," she writes. 
Simple ways you can communicate better with your team. Improve your leadership skills by frequently saying 10 phrases such as, "What's possible?", "How can I help?" and "I don't know," writes Dan McCarthy. These phrases help show that you desire to understand, care what others think and seek to praise others, he writes.
John Kamensky
Centralizing IT @ DOT. Federal News Network reports: "We are in year one of a three-year plan to centralize all of IT. When we are successful at the end of 2021 or so, the modes' IT will all reside in the office of the CIO," [Department of Transportation's new CIO, Ryan] Cote said on Ask the CIO. "We will manage every system. We will manage the networks. We will manage all help desks, project management and dev/ops.
Metrics, Trust, Performance.  Howard Risher writes in op-ed for Government Executive: "Multiple studies in different cultures confirm the correlation between worker empowerment—read "regain control"—job satisfaction and performance. Compared with low trust companies, high trust organizations report 50% higher productivity, 13% fewer sick days, 76% higher engagement, 40% less burnout and 74% less stress. When employees are not involved in decisions that affect them, they take steps to thwart, impede or, as with Uber drivers, work around management's actions. Simply stated, high trust organizations are a better, more productive place to work."
Acquisition Priorities. NextGov reports: "Confirmed by the Senate in August, Office of Federal Procurement Policy Administrator Michael Wooten laid out a set of tech-heavy priorities Monday as he prepares to shape the way agencies buy goods and services. . . . . Wooten said his office within the Office of Management and Budget will prioritize four actions. The first, he said, will be to "build on the work we've already been doing to prepare our team to leverage our buying power through category management."
Simplifying Surveys. NextGov reports: "A notice published in the Federal Register Friday [Sept 13] indicates the General Services Administration wants to help high impact service provider (HISP) agencies comply with updates to Section 280 of the Office of Management and Budget's Circular A-11. . . . The notice indicates GSA would reduce the bureaucratic burden under the Paperwork Reduction Act for approximately two dozen HISPs identified in the President's Management Agenda as they implement the most basic customer experience improvement requirements.
Increasing Trust. Scott Blackburn writes in FedScoop: "The VA has suffered from low levels of trust. In 2015, at the start of the transformation, veteran trust in the agency stood at just 47 percent. . . . . Today, through a smart approach and hard work, veteran trust in VA care stands at 72 percent. The VA still has a long way to go, but there is no doubt that the agency has seen real and important progress."
Progress Reports.  OMB released its quarterly progress report updates for agency and cross agency priorities goals, as well as the customer experience action plans for the top 25 high impact services in the government.
Next Week on The Business of Government Hour: Special Edition-Enterprise Risk Management in Action: Mission Success in the 21st Century. The IBM Center for The Business of Government, the Association for Federal Enterprise Risk Management (AFERM), and the Senior Executives Association (SEA) hosted a seminar that brought together ERM experts to share key insights and lessons learned about the use and application of ERM. This Special Edition of The Business of Government Hour presents insights from this seminar on ERM in action, the next evolution of ERM, and reflections from an ERM practitioner. Join host Michael Keegan next week on The Business of Government Hour.
Broadcast Schedule: The show airs Monday at 11 a.m., and Friday at 1 p.m. on Federal News Network 1500AM WFED
Anytime, Anywhere on...
https://www.podcastone.com/the-business-of-government-hour
https://itunes.apple.com/us/podcast/the-business-of-government-radio-hou