Submitted by

MKeegan

on Fri, 09/22/2023 - 13:24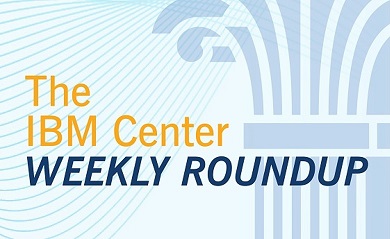 Friday, September 22, 2023
Articles & insights in public management & leadership that we found of interest for the week ending September 18-22, 2023
TMF board member eyes more AI, automation projects. The TMF has so invested $750 million into 45 projects across 27 federal agencies. Many of those projects have focused on areas like cybersecurity, zero trust and customer experience. Sheena Burrell, CIO, NARA a member of the Technology Modernization Fund board would like to see agencies lean into artificial intelligence and automation projects, especially those that have a "customer experience" angle.
DHS says agencies should adopt cyber incident reporting definition, common form. With 45 different cyber incident reporting requirements in place across the federal government, and even more on the way, the Department of Homeland Security is recommending the adoption of a standard definition for a "reportable cyber incident" and a common form organization can use to comply with the different rules. DHS released a report on "Harmonization of Cyber Incident Reporting to the Federal Government." The document, at more than 100 pages long, provides detailed recommendations for streamlining different incident reporting rules.
New OPM 'handbook' details skills-based job qualifications for governmentwide roles. The Office of Personnel Management is offering agencies a new resource to help them focus more on job candidates' skills rather than their education. An updated "handbook" from OPM details various job competencies, across a broad range of governmentwide occupations, that agencies can reference when assessing job applicants. The handbook is organized at the top level by job category. . 
Cyber experts say CISA should bolster threat hunting, visibility across federal networks. As the Cybersecurity and Infrastructure Security Agency revamps its flagship federal cybersecurity programs, industry experts say CISA should focus on bolstering threat hunting across agency networks and on increasing visibility into unmanaged devices. CISA is restructuring the National Cybersecurity Protection System (NCPS), long used to defend federal networks, into a big-data system known as "Cyber Analytics and Data System" or CADS.
DeRusha: AI Guidance for Agencies Coming Soon. The Office of Management and Budget (OMB) is actively focused on getting guidance out to agencies on the responsible use of artificial intelligence (AI) within the Federal government, Federal Chief Information and Security Officer (CISO) Chris DeRusha said this week.
A New Approach to Strategic Innovation: A tool for connecting your projects with your goals. Organizations typically treat their innovation projects as a portfolio, aiming for a mix of projects that collectively meet their strategic objectives. The problem, say the authors, is that portfolio objectives have become standardized, and innovation projects are often only weakly related to a company's distinctive strategy. This article introduces a new tool to help leaders better align their innovation investments. The strategic innovation tool kit has two elements: a strategy summary framework and an innovation basket. 
Leading Change May Need to Begin with Changing Yourself. Behavior change is hard, but it's a skilled leader who want to succeed amid near-constant organizational change need to develop. By increasing their self-awareness, committing to change, overcoming limiting thoughts, and deliberately practicing new behaviors, leaders raise the likelihood that the change initiatives they're tasked to lead will be successful.