Submitted by

MKeegan

on Fri, 09/23/2022 - 15:09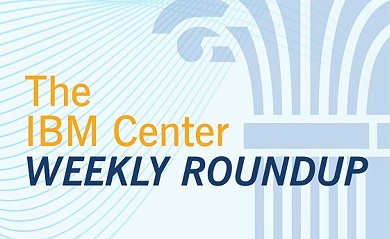 Friday, September 23, 2022
Articles & insights in public management & leadership that we have found of interest for the week ending September 23, 2022
Is it time to add IT workforce ratings to the FITARA scorecard? A new report from ACT-IAC recommends changes to the biannual FITARA scorecard, including adding a category measuring IT workforce capability. The authors suggest measuring the share of an agency's IT workforce eligible for retirement, whether an agency has an IT workforce strategic plan and how its making progress against that plan. The report also outlines a handful of other key recommendations.
Labor Department evolves efforts to assist states in UI delivery. A pilot project meant to give the federal government a more central role in unemployment insurance delivery, is raising questions inside the Department of Labor and in Congress about the role of identity verification and enforcement authority over states in the system.
Over $45 billion in unemployment paid to fraudsters during pandemic, watchdog says. The Labor Department's Office of Inspector General says that the department needs to do more to obtain state-level unemployment insurance data to help with antifraud efforts.
Cyberattacks are a Common Occurrence and the Costs are Higher Than Ever. IBM recently released its annual Cost of Data Breach Report, which found that the financial cost of a data breach in 2022 reached an all-time high of $4.35 million on average. In fact, IBM found that for 60 percent of organizations, breaches led to price increases passed on to consumers. A prime example, in the wake of the 2021 Colonial Pipeline ransomware attack, gas prices rose 10 percent on a temporary basis, and some of this increase can be attributed to that attack.
VA Struggles to Ensure Timely Healthcare to Vets. There is a great amount of concern on both sides of the aisle surrounding the Department of Veterans Affairs (VA) ability to ensure timely access to healthcare. At a U.S. Senate Committee on Veterans' Affairs hearing on Sept. 21, VA Secretary Denis McDonough yielded tough questions from several senators on how he plans to execute the one thing everyone in the room agreed upon: fast, quality healthcare for veterans.
VA in Need of New Acquisition Management Approach. The Department of Veterans Affairs (VA) has faced acquisition management problems – placing it on the Government Accountability Office's (GAO) High-Risk List – but agency officials on Sept. 20 said they are looking to chart a new course in VA acquisition, one that may require an enterprise-wide approach.
GAO: Data Challenges Impede Responsiveness to Health Emergencies. The Government Accountability Office (GAO) released a report addressing public health entities' lack of ability to share new data and potentially life-saving information in real-time. "Longstanding challenges in the Federal government's management of public health data undermine the nation's ability to quickly respond to public health emergencies like COVID-19 and monkeypox," the report said. The report cited that over 15 years ago, federal law mandated the Department of Health and Human Services (HHS) to establish a national public health situational awareness network with a standardized data format.
Samuel J. Heyman Service to America Medals-2022 Winners. Since 2001, the Partnership for Public Service's Samuel J. Heyman Service to America Medals highlight excellence in our federal workforce. The Sammies honorees represent the many exceptional career public servants who are breaking down barriers, overcoming huge challenges and getting results.
What's your leadership style? An enabler or a barrier?  Great leaders are those who provide support and resources to their teams, empower them to achieve their goals and celebrate their wins, in contrast to poor leaders, who are often seen as barriers to progress, writes Robert Whipple. "They get in the way of progress by invoking bureaucratic hurdles that make extra work or waste time," Whipple writes. The Trust Ambassador
Why the best leaders check their ego at the door. Your ego may be getting in the way of your leadership if you think you're the smartest person in the room, you blame others for your mistakes, you lack humility or are averse to self-reflection, writes LaRae Quy. "Because an egotistical person is usually only interested in doing whatever it takes to be successful, they seldom delve into the deeper issue of meaning and purpose in their life," Quy writes. SmartBrief/LeadershipHow this small shift can improve engagement. Holding conversations that seek to learn from your team members instead of only about what they've done or accomplished for the company can create more engagement, learning and collaboration, writes Larry Robertson. "The truth is that there's a good deal you're likely missing if you operate solely in 'about' mode," Robertson writes. SmartBrief/Leadership
Next Week on The Business of Government Hour: Investing in Safe, Reliable, and Equitable Transportation Infrastructure: A Conversation with Victoria Wassmer, Assistant Secretary for Budget and Programs and Chief Financial Officer, U.S Department of Transportation. What are the financial management priorities for the U.S. Department of Transportation? How is Transportation transforming the way it operates? What are the financial implications of some of the department's core initiatives? Join host Michael Keegan as he explores these questions and more with Victoria Wassmer, Assistant Secretary for Budget and Programs and Chief Financial Officer, U.S. Department of Transportation.
Broadcast Schedule: The show airs Monday at 11 a.m., and Friday at 1 p.m. on Federal News Network 1500AM WFED
Anytime, Anywhere on...