Submitted by

MKeegan

on Fri, 09/06/2019 - 12:05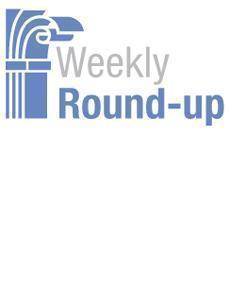 Friday, September 6, 2019
The IBM Center's Weekly Roundup highlights articles and insights that we found interesting for the week ending September 6, 2019.
Michael J Keegan
The Pentagon is looking for an AI ethicist. The Defense Department wants to hire an artificial intelligence ethicist. " The AI ethical advisor would sit under the JAIC, the Pentagon's strategic nexus for AI projects and plans, to help shape the organization's approach to incorporating AI capabilities in the future. The announcement follows protests by Google and Microsoft employees concerned about how the technology would be used -- particularly in lethal systems -- and questioning whether major tech companies should do business with DOD.
Zangardi: SOC optimizations on track at DHS. The Department of Homeland Security's journey to simplify its complex network of Security Operations Centers (SOCs) around the country is picking up momentum. SOCs are the nerve centers from where DHS assesses and defends its websites, apps, databases, data centers, networks and desktop computers from cyber intrusion and attacks. "We have 17 SOCs," Zangardi said. "We started a long road here in a 'crawl, walk, run' strategy. We're beginning to get into our 'walk' phase."
OMB's CyberStat program is 'evolving'. The Office of Management and Budget's process for reviewing the cybersecurity postures of federal agencies is "evolving" says, Federal Chief Information Security Officer Grant Schneider. The reviews, dubbed CyberStat, are meant to function as one-on-one, in-depth analyses between OMB and federal agencies that may be struggling with compliance to identify root causes of security vulnerabilities and correct course. Schneider told FCW that his agency is taking "a hard look" at the current program with the aim of revamping the process ahead of next fiscal year. "What do we want the CyberStat program to look like and achieve," he asked, "and what are those numbers going to be?"
Roles must be clear for strategies to succeed. Strategy done right resonates with employees at a high level and in their individual jobs, writes Katharina Auer. "Everyone needs to know or have at least a basic awareness of the company's high-level ambition and strategic direction to understand the company they work for," she writes.
Getting rest is part of a leader's job. Rest allows you to recover, reflect and rekindle your passion and should be seen as an investment in your success just like other activities, writes John Maxwell. "A burned-out leader reproduces burned-out people because we reproduce what we are, not what we want," he writes.
Focus on the long term to stave off short-term temptation. Keeping a long-term perspective requires an outsize sense of optimism and resisting the stimuli of immediate events, says author Bina Venkataraman. "You might call this a North Star tactic, calling on people in an organization to habitually look up from daily minutiae to reorient themselves to their ultimate destination," she says.
Technology can reskill workers affected by technology. Virtual and augmented reality, among other technologies, should be considered for how they can retrain workers with new skills, writes Jack Karsten. "This approach benefits industries where generations of technology advance much faster than generations of workers," he writes.
John Kamensky
New Blood Needed. Government Executive reports: "According to the most recent federal workforce data from the Office of Personnel Management, as of June 2018, 14% of the federal workforce is over 60, while just 7.8% is under 30 (out of a population of 2,099,149). Twenty years ago, the over-60 population represented 5.7% of the workforce, while 7.5% of the workforce was under 30."
Overhaul for a CFO. Federal News Network reports that Treasury assistant secretary David Lebryk has developed a new vision for agency chief financial officers: "That shift toward data-driven decisionmaking also marks a shift away from agency CFO shops just seeking a clean audit opinion as the gold standard for financial management. Instead, the goal will be around-the-clock transparency into agency spending."
New Federal R&D Budget Priorities.  Federal Times reports: "Federal research and development spending has been on the decline for many years, but a new Trump administration policy plan for fiscal year 2021 could mark a change in ideology for how the White House approaches such spending. . . . An Aug. 30 memorandum issued by the Office of Management and Budget to the heads of federal agencies calls on them to focus on five priorities in formulating their budget proposals for 2021: security; leadership in industries of the future; energy and environmental leadership; health and bioeconomic innovation; and space exploration and commercialization."
No Two Alike. NextGov reports: "Members of the government's Robotic Process Automation Community of Interest held an industry day Tuesday to share their common experiences and challenges in attempting to automate some of the rote processes that eat up so much of federal employees' time. . . . While members of the community of interest were able to meet and share ideas on RPA adoption, those in attendance learned their individual use cases had as many differences as similarities."
Defense Reform Efforts. The Government Accountability Office reports: "We reviewed DOD's reform plan and found that it contained the required schedule and cost estimates. However, many of its initiatives are preliminary—intended to collect information for later reforms. This makes it hard to assess the feasibility of future reforms. In addition, we could not validate DOD's claims of cost savings related to business reforms it has already made."
Next Week on The Business of Government Hour: More than Meets AI- BUILDING TRUST, MANAGING RISK. What are US federal agencies doing to leverage artificial intelligence? How are these agencies managing the risk associated with AI? Join host Michael Keegan for a special edition of The Business of Government Hour – exploring how AI can transform government. That's next week on The Business of Government Hour.
Broadcast Schedule: The show airs Monday at 11 a.m., and Friday at 1 p.m. on Federal News Network 1500AM WFED
Anytime, Anywhere on...
https://www.podcastone.com/the-business-of-government-hour
https://itunes.apple.com/us/podcast/the-business-of-government-radio-hou