Submitted by

MKeegan

on Fri, 09/27/2019 - 12:13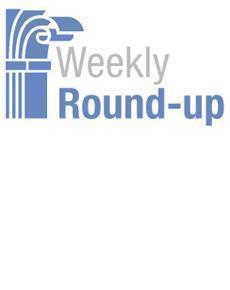 Friday, September 27, 2019
The IBM Center's Weekly Roundup highlights articles and insights that we found interesting for the week ending September 27, 2019.
Michael J. Keegan
Pentagon teams with GSA on AI Center of Excellence. The Pentagon's Joint Artificial Intelligence Center has partnered with the General Services Administration to accelerate government's AI adoption.
DHS cloud push comes with complications. A pressing data center closure schedule and an ensuing scramble to move applications means that some Homeland Security components might need more than one hop to get to the cloud.
Moving out smartly on cloud and modernization. The Federal Cloud Computing Strategy takes a thoughtful approach to IT modernization.
VA needs more time on scheduling software. As part of its electronic health records modernization plan, the Department of Veterans Affairs is adopting Cerner's scheduling system but it's going to take longer than they thought.
Data Driven Ways to Improve Public Health. When responding to a public health challenge or emergency, agencies need good data and analytics. In this Special Report Route Fifty explores how state and local agencies have used the power of data to address the opioid abuse crisis, figure out the spread of disease-carrying ticks, and more
They Lead, We Coach: A Multi-generational Approach to Innovation by Vicki Huff Eckert of PWC writing at strategy+business. A wonderful approach to leveraging the skills of individuals of different experience levels! 
James Altucher always packs a great message in a creative, typically self-deprecating way. This one's no exception with, I am the Worst Judge of Character. 
Find the Unicorns to Help Your Business Excel. If your organization is going to thrive in the era of Artificial Intelligence, you are going to need to hire magical individuals. That's right. These are the people who will turn things around, lead the organization to innovate, and drive through challenges. Author headhunter, and coach Caroline Stokes calls them "unicorns" and insists this is the way to win.
John Kamensky
Examples of Customer Experience. Federal News Network reports: "more than two dozen public-facing program offices have released new data on their annual workloads, and are looking at ways to transform their approach to customer service through long-term strategies. . . . The 25 agency program offices, designated as high-impact service providers by the Office of Management and Budget, on Thursday released their annual customer experience action plans. . . . Each plan posted on Performance.gov focuses on two near-term goals agencies can accomplish within a year, and includes a self-evaluation of how they're performing on five metrics — measurement, governance, organization & culture, customer research and service design."
Air Force – Trust and Delegate.  Federal News Network reports: " Air Force Chief of Staff David Goldfein said the Air Force was organized to perpetuate, not to innovate. So he's been pushing authority down to squadron commanders, trusting in them to effectively pursue their missions and take care of their people. . . . But trust and authority aren't the only things Goldfein is pushing down to the squadron level. He recognizes that squadron commanders will also need the resources to pursue their initiatives. . . . "So we're pushing money directly," he said."
MSPB Performance Study.  Government Executive reports: "For most federal employees, it's an event everyone loves to hate: the annual performance appraisal. As agencies gear up for this year's reviews over the coming weeks, the Merit Systems Protection Board has some advice: spend more time discussing performance and less time haggling over the actual grades. . . . In the quasi-judicial board's September newsletter, MSPB Director of Policy and Evaluation James Read noted the deep frustration with the review process felt by managers and workers alike."
IRS Use of Behavioral Analytics.  NextGov reports: "When taxpayers use online systems, the IRS really wants to make sure the people accessing information are who they say they are. The agency has implemented a number of authentication tools over the years—with varying degrees of success—and is now looking at behavioral analytics as an option."
Contracting by Robot. Federal News Network reports: "Michael Wooten became the 15th administrator of the Office of Federal Procurement Policy about six weeks ago . . . That concept of using software — take your pick of a buzzword: Artificial intelligence, machine learning or robotics processing automation — to address manual processes and compliance requirements would be a huge accomplishment, and maybe the biggest of any OFPP administrator in the last two decades."
Seeing the Future. NextGov reports: "The Government Accountability Office's Center for Strategic Foresight had its coming-out party earlier this month, establishing what the group would like to be an annual conference about the biggest technological trends and issues that should be on lawmakers' radar.  . . . James-Christian Blockwood, managing director of the Office of Strategic Planning and External Liaison, of which the center is a part, said the group plans to maintain a broader scope, complementing efforts like those of the new Science, Technology Assessment and Analytics team, which is taking a more direct advisory role for lawmakers."
Next Week on The Business of Government Hour: Special Edition of The Business of Government Hour – Conversation with Erwin Rademaker, Program Manager, Port of Rotterdam Authority. How is the Port of Rotterdam pursing its digital transformation strategy? What exactly is a "digital twin"? How can the use of digital twins be leveraged by other government agencies and mission areas? Join host Michael Keegan as he explores these questions and more with Erwin Rademaker, Program Manager, Port of Rotterdam Authority.
Broadcast Schedule: The show airs Monday at 11 a.m., and Friday at 1 p.m. on Federal News Network 1500AM WFED
Anytime, Anywhere on...
https://www.podcastone.com/the-business-of-government-hour
https://itunes.apple.com/us/podcast/the-business-of-government-radio-hou