Submitted by

MKeegan

on Fri, 09/09/2022 - 14:11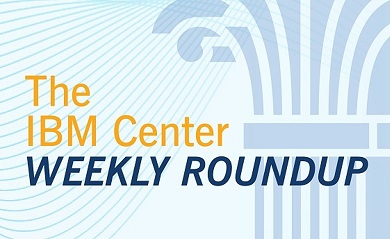 Friday, September 9, 2022
Articles & insights in public management and leadership that we have found of interest for the week ending September 9, 2022
Agencies Really Are Missing an Opportunity by Downplaying Performance Information. What's the best strategy for shining a flashlight on government performance in ways that engage the public's support for reaching these goals? While Performance.gov is a valuable platform for agency performance information, OMB should not have to be the sole voice in telling the performance stories of government. To tell the story more broadly may require multiple approaches with a wider range of story tellers and analysts.
OMB prioritizes CX in budget planning. he latest update to annual budget guidance for federal agencies from the Office of Management and Budget shows the administration weaving its customer experience priorities into the machinery of government.  The guidance in OMB circular A-11 has new language that focuses on customer experience and service delivery, Biden administration priorities already showcased in an executive order and in the administration's management agenda. 
New approach to buying digital services slowly becoming the norm. The idea of the Digital IT Acquisition Professional Program (DITAP) came from a competition held in 2015 to improve the federal government's approach to buying digital services. Joanie Newhart, the associate administrator for acquisition workforce programs at OFPP, said agencies will come close to meeting deadline set in 2018 to institutionalize the DITAP process.
Science, Technology Assessment, and Analytics at GAO: September 2022 Update. Since 2019, our Science, Technology Assessment, and Analytics team has provided Congress with in-depth information on the most pressing science and technology issues. Over the next year, we will focus on more issues impacting our nation, such as emerging infectious diseases, artificial intelligence, and the manufacturing supply chain.
Leading confidently with data: 3 steps for every city leader. That's why we're doubling down on our work with mayors in the new Bloomberg Philanthropies City Data Alliance. The program's aim is to identify 100 cities across North, Central, and South America that are the most sophisticated, ambitious, and advanced at harnessing data, and enable their top leaders to chart the next frontier of public-sector data practice. As the first cohort of 22 mayors gets started, the first topic in our work together is exploring how they and their top officials can lead confidently with data.
Bosses say remote work kills culture. These companies disagree. Some business leaders worry remote options could destroy their company culture. But companies that have operated remotely for years say culture doesn't come from a physical office.
White House developing cyber workforce strategy to be more 'action oriented'. The White House is pulling together a new cybersecurity workforce strategy that promises to help the federal government grapple with longstanding cyber workforce challenges, including an emphasis on stronger implementation mechanisms to ensure agencies follow through on the plan's goals and objectives. Agencies have long struggled to compete with the private sector for cyber talent.
DHS looks to hire hundreds of 'technologists' to improve customer experience. The Department of Homeland Security is launching what it calls "the largest hiring initiative in any federal agency" to recruit technologists who will help DHS improve customer experience across its subcomponents. DHS announced the "technologist hiring initiative" today. The goal, the agency said in a statement, is to hire "hundreds" of technologists to support DHS efforts to digitize services and reduce administrative burdens for accessing public services.
Focus on these 6 areas to build strategic resilience. Ongoing geopolitical risk means companies must pay attention to six factors, working to build resilience related to their reputation, operations, business model, organization, finance and technology, according to McKinsey analysts. The authors offer questions to ask and actions to take, with a special focus on how boards need to take the lead. McKinsey
How to avoid common leadership mistakes. Avoid leadership blunders by setting goals, defining what progress looks like, questioning your assumptions and bringing the best parts of your home-self to work with you, writes Dan Rockwell. "The bigger the gap between your home-self and your work-self, the more drudgery you experience," Rockwell writes. Leadership Freak
Are you a perfectionist? 6 ways to embrace "good enough" Leaders who expect perfection from themselves or employees can manage the stress and negativity of such beliefs by acknowledging progress, better managing their emotions and fostering noncompetitive relationships, write business professors Anna Carmella G. Ocampo, Jun Gu and Mariano Heyden. "Ultimately, we tend to perform better at work -- and can even be happier -- when we are consistently 'good enough' instead of sporadically perfect," they write.
How this CEO approached a new agile strategy. Andy Penn, who was CEO of Australian telecommunications company Telstra until recently, says the strategy of implementing agile ways of working, revamping the customer experience and keeping stakeholders engaged and informed has been challenging but effective. "Maintaining discipline in the early days when you're not able to demonstrate the results, when you've got lots of people in the organization telling you you're wrong -- holding your nerve is challenging," Penn says. McKinsey
Ask these 4 questions to grow your presence as a leader. If you're feeling stuck in your current role, you may want to evaluate whether you have the "executive presence" that you need to advance in leadership, writes Lolly Daskal. Daskal offers four questions to ask yourself, including if you're able to feel confident and in control in tough situations and how well you communicate with others. Lolly Daskal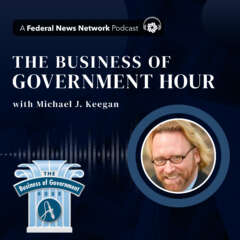 Next Week on The Business of Government Hour
:
Connect and Protecting the Warfighter in Cyberspace: Conversation with Lt. General Robert Skinner, Director, Defense Information Systems Agency (DISA
). What are the strategic priorities of the Defense Information Systems Agency (DISA)? How is it strengthening the security and resilience of networks and systems? What is it doing to prioritize command and control and leverage data as a Strategic Asset? Join host Michael Keegan as he explores these questions and more with Lt. General Robert Skinner, Director of the Defense Information Systems Agency (DISA).
Broadcast Schedule: The show airs Monday at 11 a.m., and Friday at 1 p.m. on Federal News Network 1500AM WFED
Anytime, Anywhere on...
https://www.podcastone.com/the-business-of-government-hour
https://itunes.apple.com/us/podcast/the-business-of-government-radio-hou