Submitted by

rgordon

on Thu, 06/01/2023 - 13:59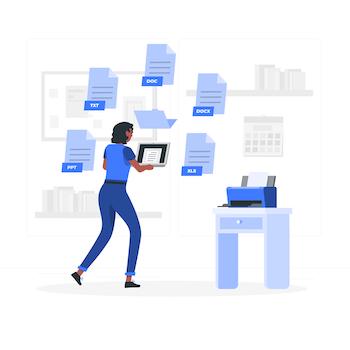 Guest Authors: Rebecca Friedman, Christopher J. Robinson and Bridget M. Walsh, Associate Partners, Automation and Data Platforms, IBM, and Emily Vose, Partner, Data & Technology Transformation, IBM.
Resiliency in the wake of massive global disruption is impacting the demand for citizen services.  Meeting the rise in service requests requires innovative approaches to the manual-intensive intake and management processes historically utilized by tax, benefits and entitlements, disaster relief, intellectual property rights, and other citizen services across government, world-wide. US Federal Agencies, like many of their global government counterparts, primarily leverage human processing and manual data entry to enable government responses to citizen service requests.  From paper income tax processing, passport and visa applications, patent applications, emergency claims requests, loan applications, and beyond – human-centered data entry drives and review the enablement of citizen services.
With human processing, massive backlogs have become ubiquitous across all government agencies as the workforce available is unable to meet the demand. Key examples of these backlog requests can be found in extended passport issuance processing times, patent pendency challenges, unanswered Freedom of Information Act (FOIA) requests, and tax processing and customer service support delays.  While citizen services demand is typically heavy, meeting the demand was challenged by the COVID-19 pandemic as agencies were forced to adopt a new, remote postures and citizens faced increased delays. Without humans to process requests in massive processing centers, citizen requests for services were drastically delayed or worse, unanswered, as the stakeholders tasked with supporting them scramble to manage their backlog. Further, as technology continues to enable more advanced criminal behavior, government agencies providing citizen services must expeditiously process valid requests and deny fraudulent submissions. Existing digital systems are struggling to keep pace with processing fully compliant requests within a secure and scalable boundary with all necessary governance, controls, and structures in place to safeguard program resources from risks and vulnerabilities.
While governments are moving quickly to leverage automation, artificial intelligence, and emerging technology, many of these efforts are taking place in decentralized silos instead in coordinated programs. Innovation silos can still bare promising results however, they lead to higher-than-expected total cost of ownership, inject higher security risks, and provide few, if any, opportunities for transformative change. It is imperative for agencies to take a strategy that focuses on the end-to-end workflow to allow for the coordination, scaling, and continuous improvement of modernized submission processing.
In FY2022, US Federal Agencies spent nearly $143 billion on submission intake and collection from US citizens. The pressure of leaner budgets, disparate legacy systems, complex security and fraud adversaries, and human capital changes compound understandable citizen expectations for service accuracy, efficiency, and responsiveness. As a result, government agencies are rethinking the way that they conduct information processing.
Harnessing a Spirit of Invention
Rapid advancements in compute capabilities have led to hypergrowth in data, automation, and artificial intelligence.  Orchestration between this explosive growth and edge concepts has enabled advanced end-to-end submission optimization facilitated by smart processes and extreme automation.  This has created new pathways to modernize legacy end-to-end information collections pipelines to delivery services a focus on business value and outcomes instead of technology systems. Organizations have been inventing new implementation patterns, management strategies, and machine learning capabilities to enable transformation to drive orchestrated service delivery through automation and artificial intelligence.
As governments consider how best to harness edge and emerging technology for advance process automation and orchestrated service delivery, three primary areas of focus arise: Intake and Assessment, Service Delivery, and Program Integrity.  Implementing modernized service delivery platforms and solutions requires a balanced approach between technologies and platforms but successful implementations include the following characteristics within each focus dimension.
Intake and Assessment
All intake streams - paper, online, third party – are harmonized as early in the data stream, as possible.  Data extraction and transformation for native sources is performed immediately and data is structured for further analysis and processing at intake. On-the-wire checks and balances are performed to identify incomplete submission right away so that automated communications can be sent to submitters for more information or to correct inaccuracies.  As data process through intake and ingestion pipelines, cross system comparisons are performed automatically to confirm entitlements.  A combination of human-in-the-loop processing and lights-off automation then routes information to a case management portal allowing humans to evaluate submissions incompatible with unattended automation, track claims status, and complete service requests, transparently.
Service Delivery
All processing actions are automated, when possible.  This includes sending orders to fulfilment systems and printers, logging transactional information in financial systems, and other in-place tracking systems, and even enabling digital and print communications with citizens based on their preference.  When cases are otherwise ineligible for end-to-end automation, human processing is performed only when humans are required for additional review and processing.
Program Integrity
Submission data and request processing metadata are stored and evaluated to identify areas of programmatic inefficacy or processing leakage that required further iterative enhancements.  Systems enabled by program integrity models enable both incremental change and long-term evergreening activities by helping system stakeholders and operators leverage empirical data to determine which areas of investment will return the largest gains to the processing time and accuracy.  
Orchestration innovation across these three areas result in increased citizen satisfaction and reduced the cost of delivery. With the outcomes and citizen experiences at the forefront, aligning technology to generate business value stymies low business value technology investments reducing total cost of value and bringing pragmatic innovation to the business, faster. This also enables government stakeholders to evaluate system integrators on their ability to balance the end-to-end technology challenges, rapidly scale, and maintain an evergreen strategy to avoid solution obsolesces.
Automation in Action:  A Case Study of Improved Services for Veterans
The processing of Veteran benefits provides a good example of how, when applied at scale, intelligent automation drives not only improved citizen services but enables Government agencies to focus on further enhancing the quality of benefits delivery. The Department of Veteran Affairs leverages intelligent automation solutions to streamline a historically lengthy claims process and to significantly reduce lead times from claim submission to benefit award. The resulting improved level of service also enables the Department to provide timely feedback to claimants when additional information or evidence is required to successfully to complete the claim. The overall benefit of timely and transparent service lowers the barrier of entry for other claimants who may have previously found the claim process too complex or cumbersome to navigate. Overall Veterans and dependents are realizing their earned benefits sooner than ever.
For the Department specifically, in addition to the benefits above, Intelligent Automation significantly enhances their "return on mission."   Automated solutions have significantly reduced the burden on employees to manually review documentation and execute straight forward business/policy decisions. By reducing this burden, employees can pivot away from manual, rote work to focus on critical citizen-facing services.  Not only is the Department able to reach more constituents in a more personalized and meaningful way, but they are also now able to benefit from the data produced by intelligent automation solutions.  This data provides critical insight into the end-to-end claims process and enables the department to make targeted policy and process improvement decisions to unlock even additional value and further enhance their reach and ability to provide timely and personalized service to their constituents.
Image by storyset on Freepik