Submitted by

rgordon

on Wed, 04/20/2016 - 09:30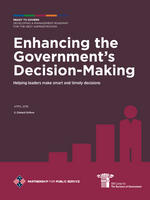 Effective decision-making will be a critical element for the new administration to address key priorities quickly and effectively.
Incoming leaders in the White House and across federal agencies will be flooded with information, advice and suggestions for new programs and priorities. They will face an urgency to act, especially on presidential priorities and budget choices. Unrelenting demands will arise around important day-to-day decisions on personnel actions, contracting, grants and regulatory issues. To succeed, new appointees need an organized approach to making decisions that leverages data and experience, and that draws on proven processes and frameworks to guide the rapid development and execution of policies and programs.
This report presents insights and options for effective decision-making in government. The ideas presented here stem from a roundtable discussion with senior current and former government leaders held in November 2015. The roundtable addressed areas on which the next administration should focus in order to accelerate and improve the quality of its decisions about presidential priorities and the effective operation of the government. The key areas of discussion were:
Establishing decision frameworks and associated governance structures
Harnessing effective governmental decision processes
Adapting decision support systems to better inform decision-making
Developing ideas and tools to enable leaders to make practical decisions in the complex federal environment
Part I of this report summarizes main points raised in the roundtable discussion. In Part II, the author offers three sets of recommendations for incoming leaders to put in place new decision procedures, and to leverage existing elements of effective decision-making processes and systems. These recommendations are intended to help the next administration act quickly on presidential priorities, and not be overwhelmed by the unremitting, urgent demands of ongoing governmental operations.
Listen to the interview with Dan Chenok on Federal News Radio.
Read the article in the PA Times.